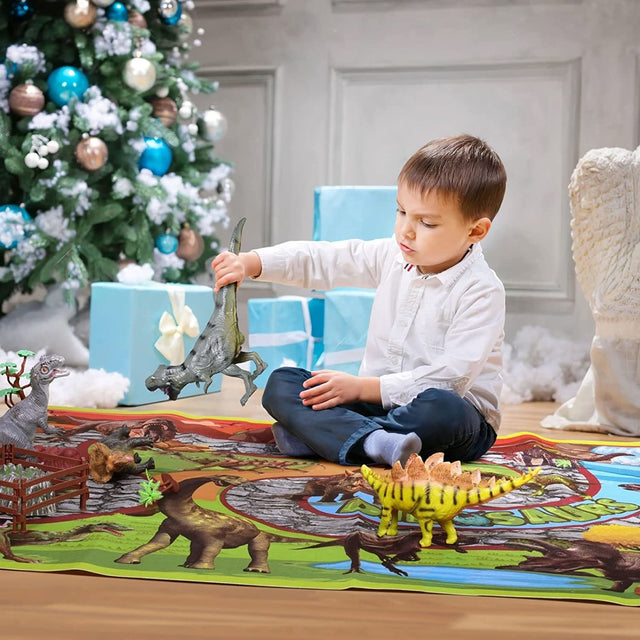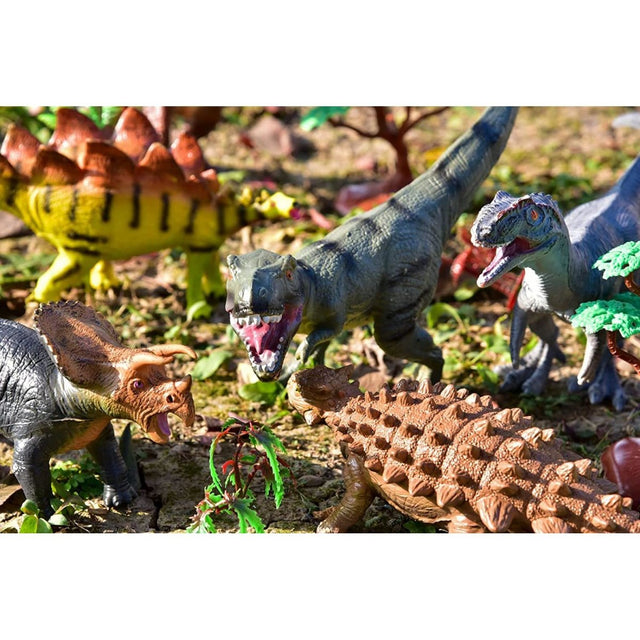 26 PCS Dinosaurs Toys with Large Activity Play Mat
Big Size dinosaur rug is foldable, perfect for space-saving, and easy cleaning with non-fading. Vibrant colors and realistic living environment, including rivers, hills, trails, etc.; Designed on the dino play mat, allow children to unleash their unlimited imagination and creativity. The dinosaur figures are painted with more realistic details, dinosaurs in vivid posture as if crawling, growling, or running. Creative design enables various types of dino can stand sturdy and resistant, lifelike as dinosaur kingdom occurs in front.
Features of the 26 PCS Dinosaurs Toys with Large Activity Play Mat
Jurassic Dinosaur Toys: 26 pieces of animal figures, including a large dinosaur play mat, 6 realistic dinosaur figures with Stegosaurus, Triceratops, Ankylosaurus, Tyrannosaurus Rex, Allosaurus, Velociraptor; 7 trees, 4 fences, 2 mountains, a volcano, 2 fossils, a dino nest, and 2 tree stumps.

Durable and safe Materials: Realistic dinosaur figure is made of 100% BPA-free materials, non-toxic and odorless; external no sharp edge and inside filling in cotton, with soft and no sturdy texture. A dinosaur activity mat is made of soft thick non-woven fabrics texture to ensure more durability. Size is 56.7 x 39 inches, enough for 3-4 children to enjoy an adventure trip together.
Interesting Educational Toy Comes in 6 realistic large dinosaur figures with various accessories. The lifelike Jurassic theme allows children to become a little adventurers to enjoy the dinosaur period; better understand the types and living habits of dinosaurs. Exercise children's exploration ability, interaction ability, and imagination.
High-quality dinosaur playset collection: Great for dinosaur lovers of all ages, and any dinosaur-themed party, outdoor event, class prize, and more.
Ideal playset for girls and boys: It is a perfect gift worth choosing for all kinds of parties, on Birthdays, New Year, Easter, Valentine's Day, and others. Equipped with a durable storage box, it can store all the accessories..