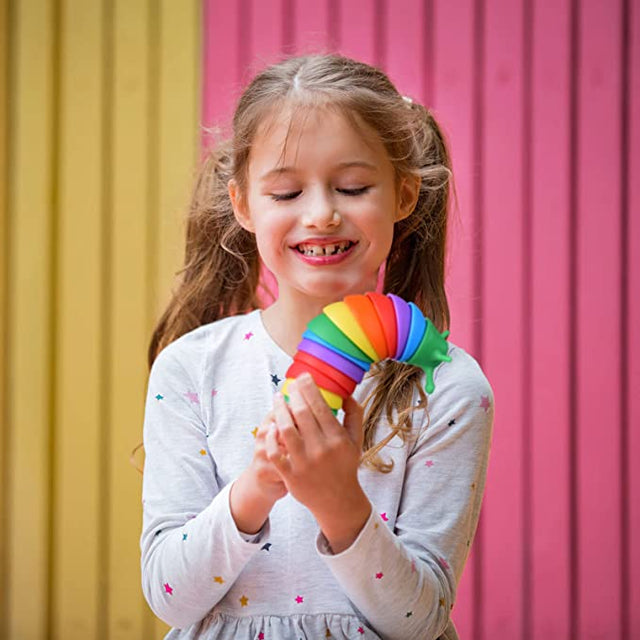 3PCS Fidget Slug Stress Relief Toys
Keep your kids entertained and engaged with the cutest fidget slug stress relief toys! This twist on your usual dimple popper fidget toys is unique and more discreet. Instead of your typical colorful dimple popper shapes, the fidget slug will look more like a cute toy in public! In addition, the fidget slug also has very soothing sounds as it squirms to the left and right. 

Features of the 12 Colors Kids Dinosaur Bath Bombs
FLEXIBLE SLUGS: The body is made up of segmented, wriggling joints that come in different colors. The body parts are very flexible, all of which can be twisted. It also provides a great way of exploring the movement of the fidget slug.
SIZE AND MATERIAL: Each is about 7.5 x 2 x 1.2 inches. It is lightweight given its compact structure. It is also convenient to carry and easy to store. You can use it as a travel toy in the office, school, home, library, and more!
COLORFUL FUN: The slugs come in 3 different colors. It is very satisfying to shake this slug toy in your hand and listen to its gentle rustling sounds! Get happy. 
UNIQUE: This slug is totally different from your typical cupcake-shaped dimple poppers or other pop-it keychains. The spherical joint design in the internal connection of the slug can be easily disassembled and re-assembled. The slug toy can be rotated 360 degrees and has a total of 19 joints, which makes it highly flexible.
PERFECT GIFT: The slug toy is both fun and engaging. Make stories, stay engaged, and fulfill your senses. It's the perfect birthday gift for kids, as well as Easter, Halloween, Christmas and other holiday stocking stuffers.