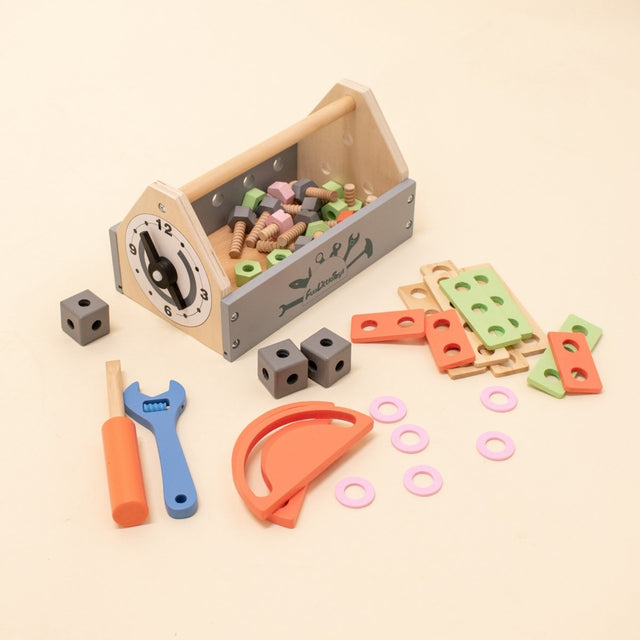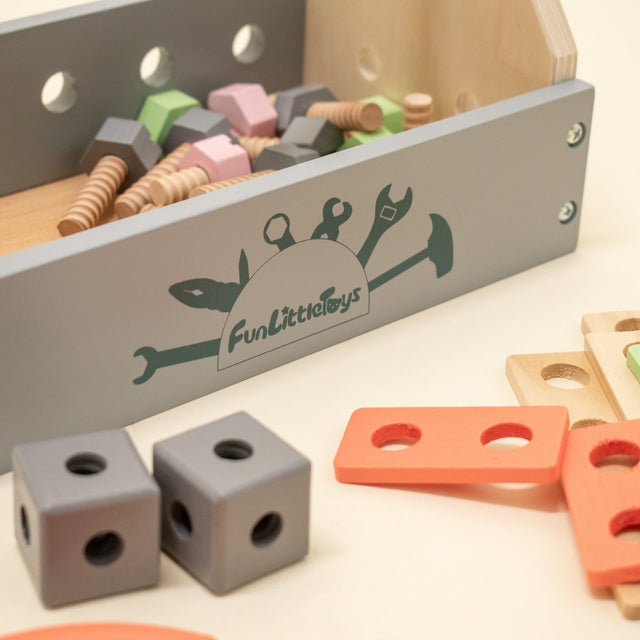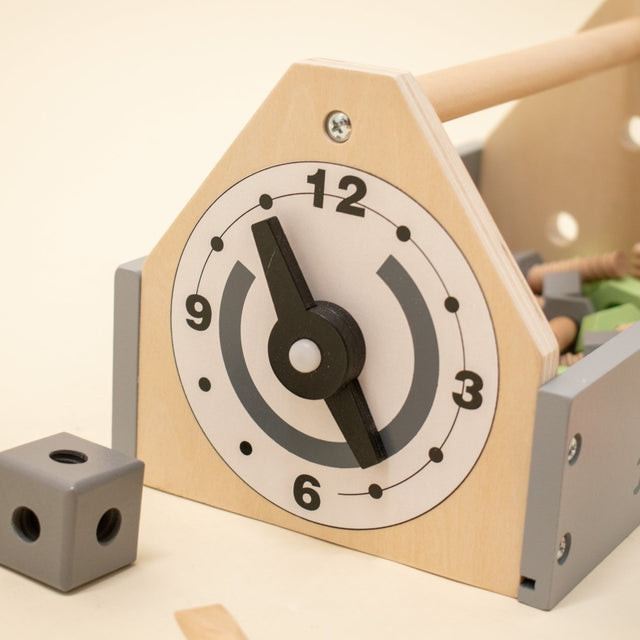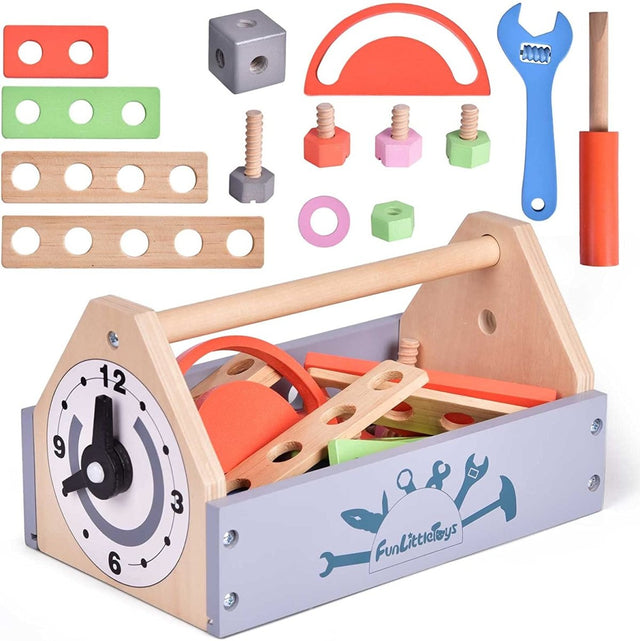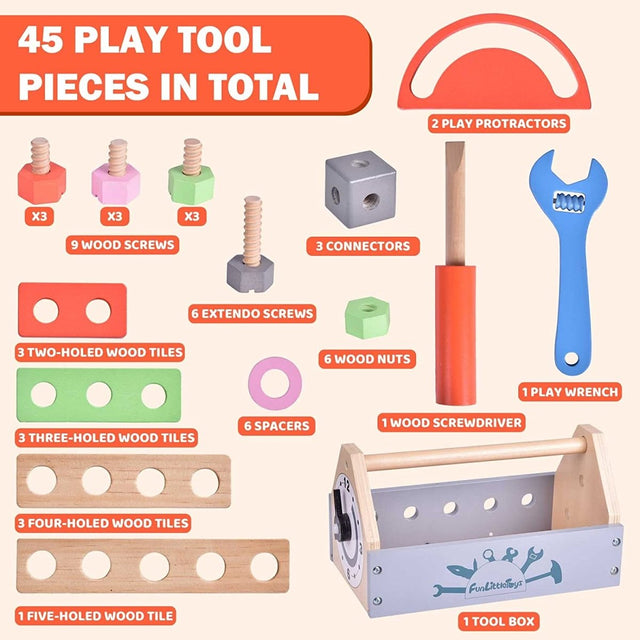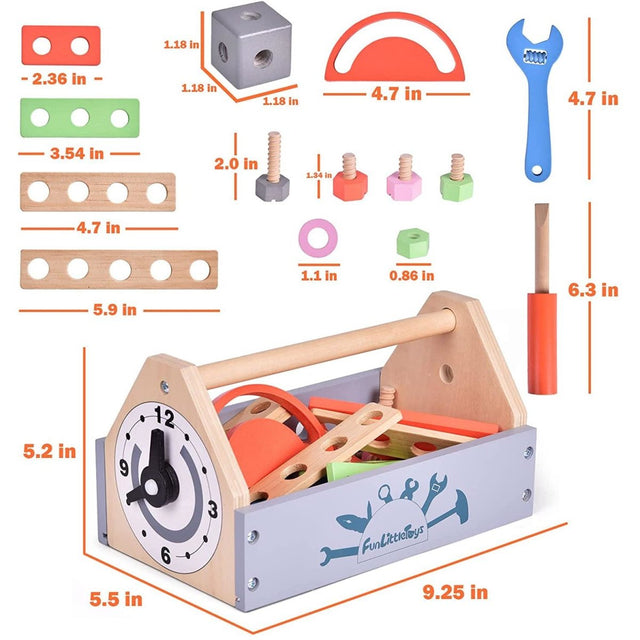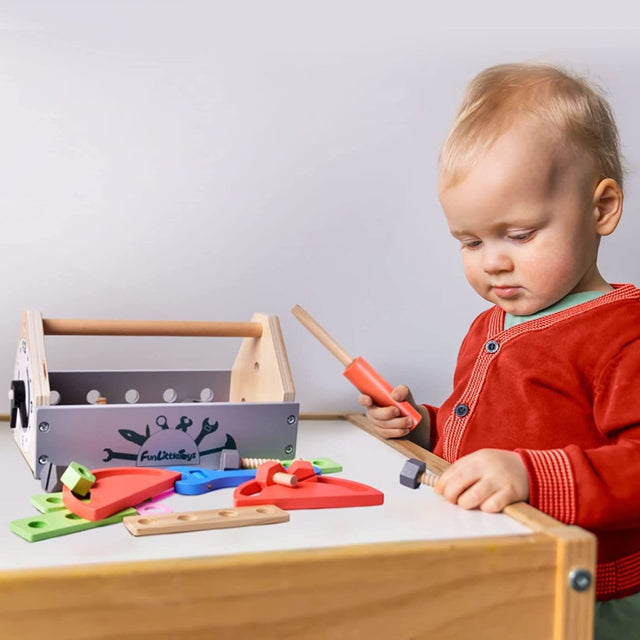 Imagination + 45 PCS KIDS TOOLS = A great combo for children with big creativity and independence
The best learning toys are those that nurture independence and imagination. This wooden tool kit is the right introductory gift that has everything you need for your future little tinkerer. It contains a total of 45 piece of play tools with wooden nails, nuts, screwdrivers, bolts, and tool box build essential motor skills for your toddlers as well as form important hand-eye coordination abilities. 
Features of the 45 PCs Kids Toy Tool Set
Everything-You-Need Toolset: This pretend play toy tool set has a total of 45 pcs, including a wooden tool storage box, screwdriver, wrench, wooden screws, long wooden screws and nuts, 3 connectors, play protractors, two-hole wooden tiles, three-hole wooden tiles, four-hole wooden tiles, five-holed wooden tiles, and one toy tool box.
Not Just for Storage: The toolbox contains eight holes on its two sides, which allow kids to creatively combine tools (nuts and bolts) and the toolbox together. They can freely create various constructions also even use the toy toolbox.
Fun Little Toys Brand Special: Our unique wooden toolbox has a total of 45pcs wooden tools, which is more than other regular wooden toolboxes.

 
The Perfect Educational Toy: This wooden tool set can develop motor skills when using wooden nuts and bolts. It can also fire children's imagination through role play - for example, allow your kids to create different stories and scenarios like fixing furniture. This toy tool bench builds the ability of hand-eye coordination, counting, sorting, color recognition, and problem-solving skills by helping kids learn the shapes and functions of tools.

 
Ideal Toy Gifts: A wooden toolbox is a perfect gift for kids. Building a great Wooden Construction Building set together using the kids' real toolset is a great way of connecting with your child through play. This wooden toolbox set is the perfect birthday gift, a children's day gift, a holiday gift, and a party gift for boys and girls.
High-Quality Toy Set: The toddler tool box is made of high-quality wood. The surface of each part is smooth and free of burrs and thorns. Every edge is rounded to ensure toy safety while playing. The play tool is made of non-irritating odor, environmentally friendly waterproof paint, harmless to your body.