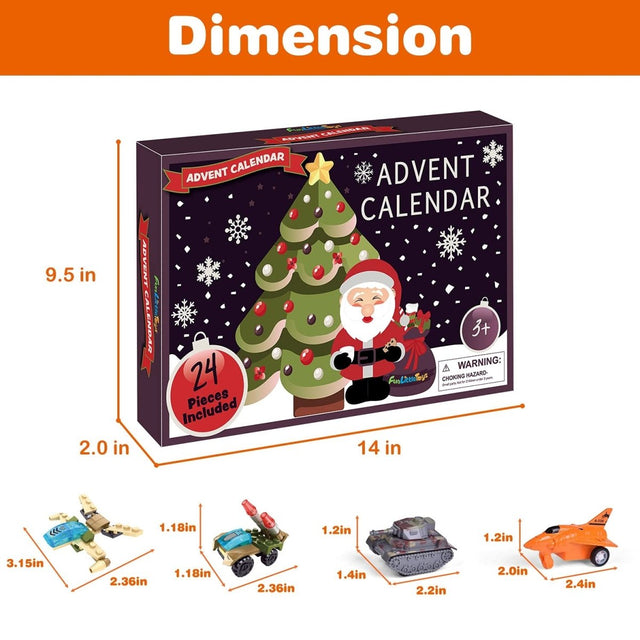 Our Favorite Advent Calendar for Christmas That Everyone Should Enjoy

What better way to celebrate this holiday than by letting your kids discover vehicles representing their very own military heroes this Winter! This product packs in a variety of fun and exciting types of cars displaying an assortment of colors and designs. Get creative with how you utilize these fun kids holiday prizes. Start up a Christmas race, or even set aside a time to encourage the development of creativity and engineering by way of classic building block entertainment.
The days of December are strewn about in fun randomity across this pre-filled advent calendar. Parents, watch on in joy as your children experience the joy of opening a tiny prize gift each day of the magical holiday month. The holidays just got a whole lot smiley-er with the heroic, car-rific Christmas stocking stuffers to discover here.
The Fun Little Toys Advent Calendar: Military Hero Vehicle set encourages parents to take initiative and spark up a fun family activity surrounding some of our finest military play blocks and vehicles. Celebrate the warmth of the holidays all while experiencing the excitement of engineering with Fun Little Toys today!
 Benefits of the Best Christmas Advent Calendar
Military Marvels: The Fun Little Toys Advent Calendar: Military Hero Vehicles feature 1 Christmas Advent Calendar displaying a Jolly Santa Claus while enjoying his favorite food in a North Pole home on the front. Flip it around and experience the main treat: a magical and mountainous winter wonderland with snow filling the sky, all behind 24 Cubbies packed with 24 Military Hero Vehicles inside
High Quality Calendar: Made entirely from premium quality materials, this countdown calendar is going to serve as more than just an activity for the family. Shiny and smooth, the bright holiday colors and captivating holiday scene is going to keep friends, families, and guests hearts warm and kids entertained. You'll want to keep this in the open all month long!
Measured with Care:  Measuring 14.1"L x 9.5"W x 1.9"H, these advent calendars for kids  contain Cubbies wonderfully sized to fit one of each of the play military vehicles behind the delightful little doors. Lightweight yet packed with action-filled Christmas party favors, the whole family is set to enjoy this with ease
Engineering Entertainment: This calendar provides 12 Military Vehicle Building Blocks and 12 Military Vehicle Pullback Cars. Keep the whole family entertained with a 24-Item variety of exciting playtime possibilities. Engineer a military quadcopter or race military Humvees and tanks! However you choose, your children will love discovering a brand new collectible representing those vehicles used by our nation's finest each day this December
Kid-Approved, Parent-Friendly:  Let's face it – kids absolutely adore Santa Claus too. And what better way to encourage their Christmas cheer than with a combo of these classic holiday symbols containing our own favorite vehicle collectibles for kids! Set the tone for the season and buy the Fun Little Toys Advent Calendar: Military Hero Vehicles today