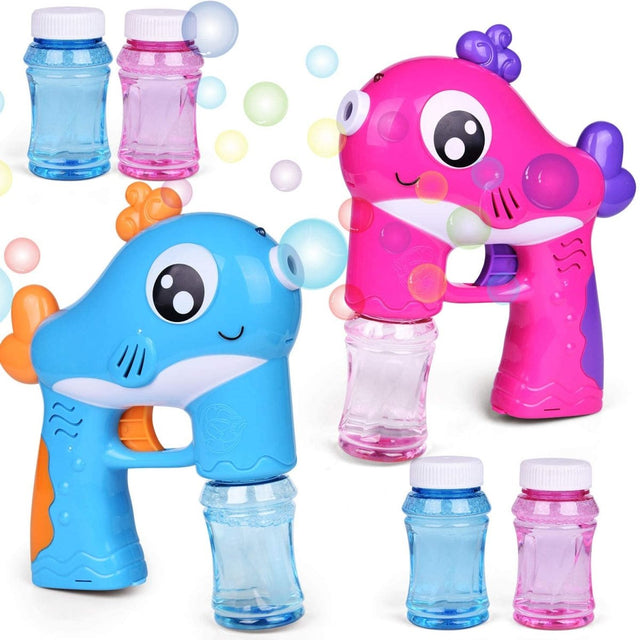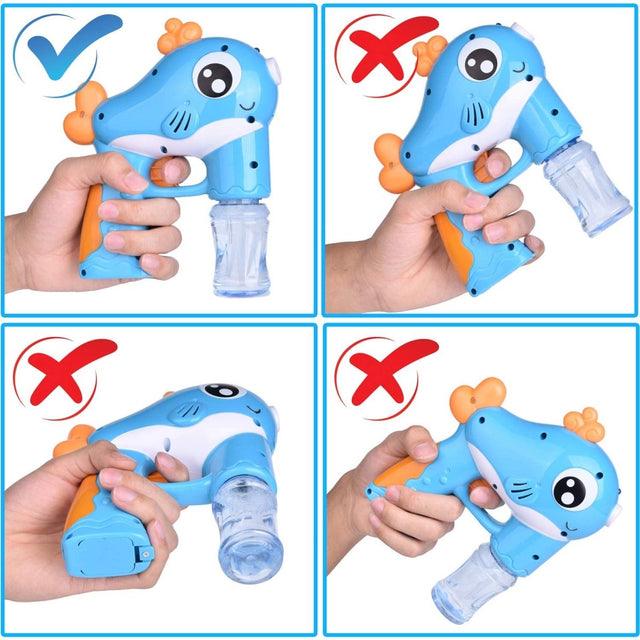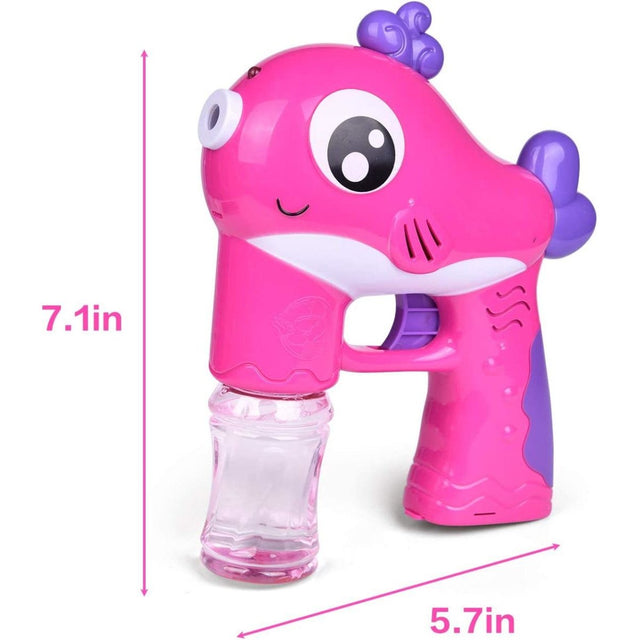 Bubble Maker with Music and Light
4 bottles of child-friendly bubble solution were included with purchase, so no worries about running out of bubble solution for the bubble toys. Blowing and chasing bubbles with your kids will get you outdoors and enjoy healthy exercise. Great for weddings, birthdays, celebration pool parties, picnics, backyard BBQ, and many more occasions. Easily attach and play, all you need to do is attach the bubble solution and play, no dipping is required. Enjoy silently the endless bubble fun! LED flashing light with a pull of the trigger and fire away for a luminous barrage of bubbles, and bound to entertain the kids all day long.
Features of the Bubble Maker with Music and Light
Bubble Bundle: Featuring 4 bottles of bubble liquid and 2 high-speed bubble guns, the Whale Wonder Bubble Blowers from Fun Little Toys are brimming with bubble-themed party supplies. Create an atmosphere of wonder with hundreds of bubbles flowing from each blower per minute.
Easy to Enjoy: Simply plug in the bubble solution to the bottom of each brightly-colored bubble gun, apply a small amount of pressure to the pressing trigger, and you'll be enjoying a wonderland of bubbles. And no need to worry about any leaks, as these outdoor activity toys are designed to be leak-free and safe for play.
Hours of Fun: Everyone enjoys a good bubble blowout. Kids especially will find no problems keeping entertained for hours with each of the fun, interactive Whale Wonder Bubble Blowers in this set. Parents, take a rest and let these summer toys do what they do best.
High-Quality Bubble: High-quality bubble makers with certified non-toxic bubble liquid makes for premium playtime. Having passed US Toy Safety standards across the board, all that's required to get to the enjoyment are 3 AA Batteries, not included in the purchase.
Portable Playtime: Take these bubble guns anywhere, as they are portable enough to be carried along to any park or party effortlessly. Next time the kids need something to do while at the park, or sitting around the neighborhood revelries, make sure to provide them with these bubble wonders for everyone to enjoy.