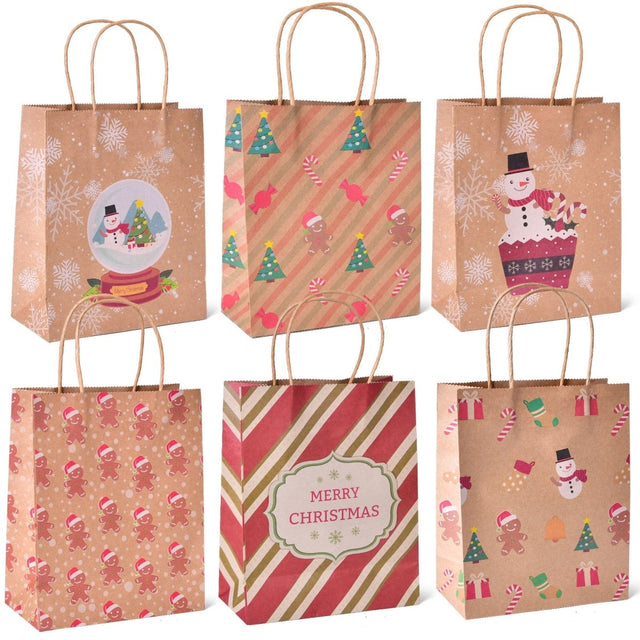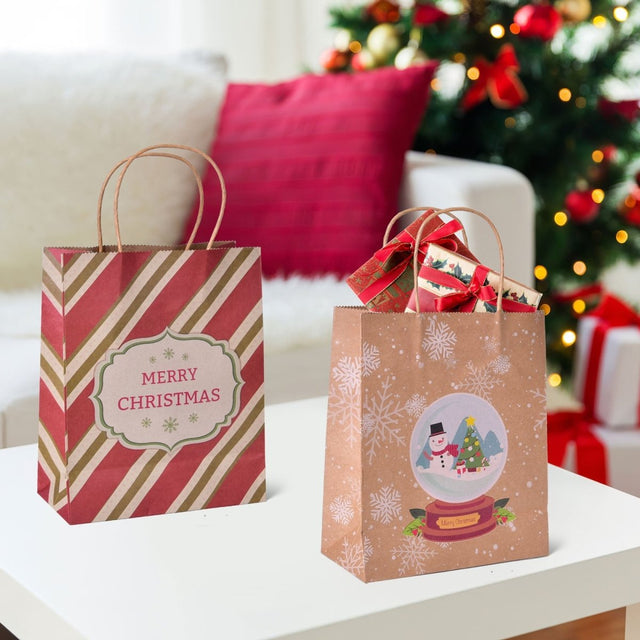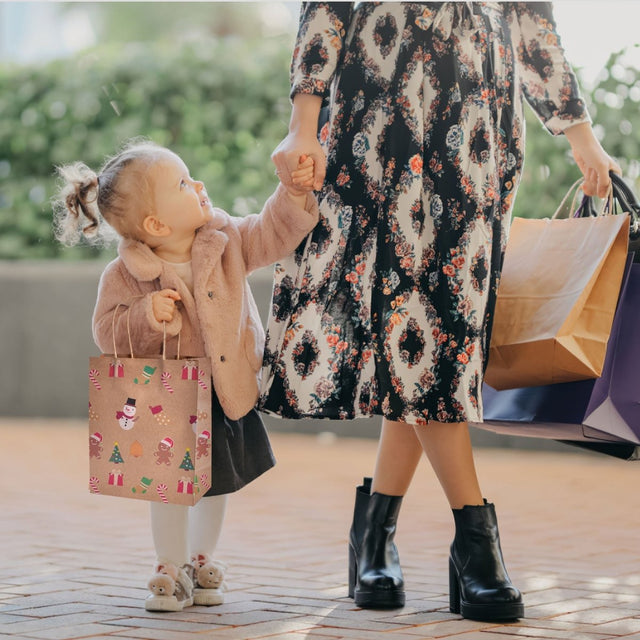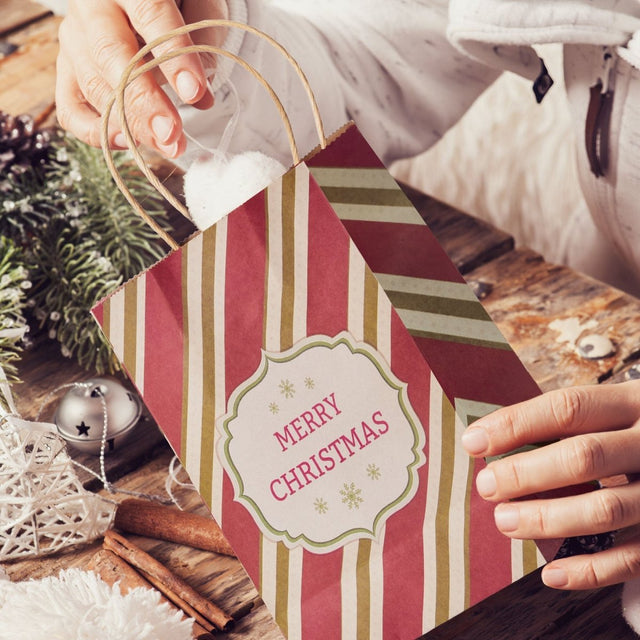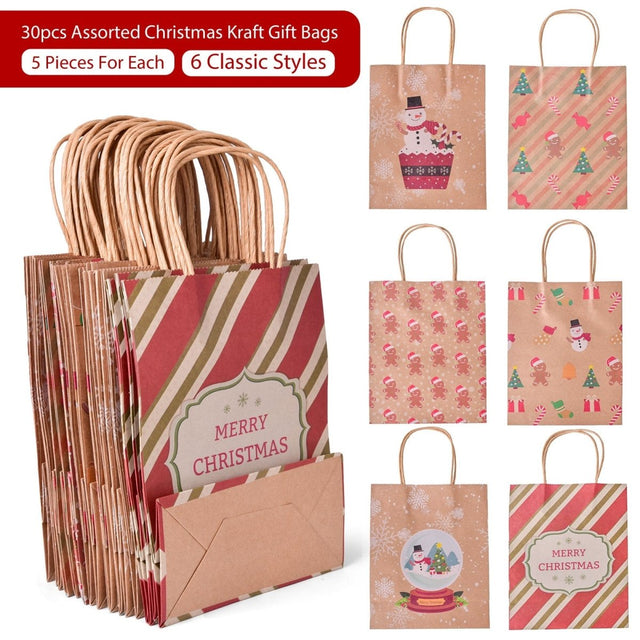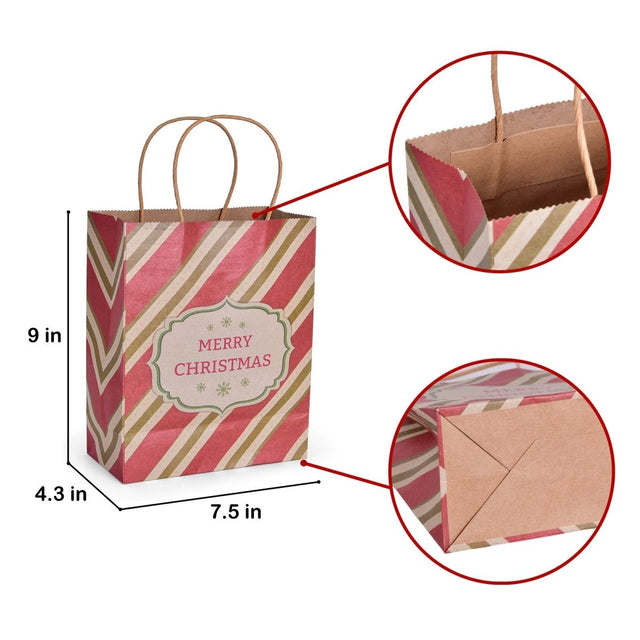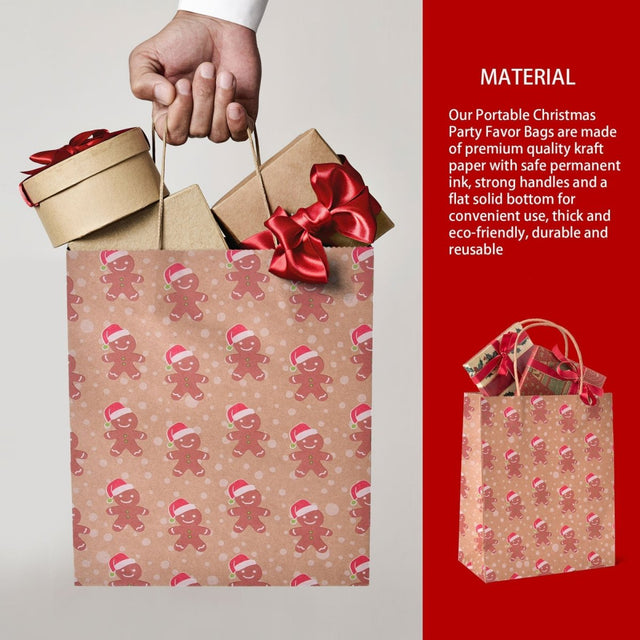 High-Quality Christmas Gift Bags with Holiday featured Designs

Gingerbread Men, Snowman, Christmas Trees – oh my! These holiday designs encapsulating the gifts you've decided to bless your friends and family with are going to transform this season from plain ol' fun to plenty festive once you arrive holding these. Kraft paper remains a timeless and elegant way to wrap up a gift, in-season and out.
Durable and long-lasting handles have been included on each of the 30 Gift Bags included in this seasonal set. Ensure that your Christmas parties and family gatherings go smooth without any stressful baggage breaks with the Christmas Gift Bags this winter.
Displaying 6 unique designs and offering 5 bags per design, your search for holiday gift bags in bulk is over. Stylish and festive, everyone is going to look on and recognize your gifts with ease at your big Christmas party this December!
All of these to Ensure the Christmas Gift Bags Bring You Joy and Happiness of the Season
Holiday Gift Collection The Christmas Gift Bags feature 30 Christmas Bags for Gifts which display 6 Holiday Designs, meaning 5 Gift Bags per design. 
Quality Christmas Bag Each of these bags measures 7.5" Inches in Length, 4.3" Inches in Width, and 9" Inches in Height and is made entirely from high-quality kraft paper.
Impressive Seasonal Designs The 6 Holiday Designs include a variety of festive placements of classic Christmas symbols and themes, including Winter Snowglobe, Festive Frosty, Gingerbread Men, Tree, and more! 
Small Present Friendly Fill each of the gift bags with small size of presents inside and you'll find that your giftees are going to be as excited about the gift container as they are about the gift itself!
Worry-Free Warranty Fun Little Toys includes a 90 Day Worry-Free Warranty alongside every order of these holiday gift bags.