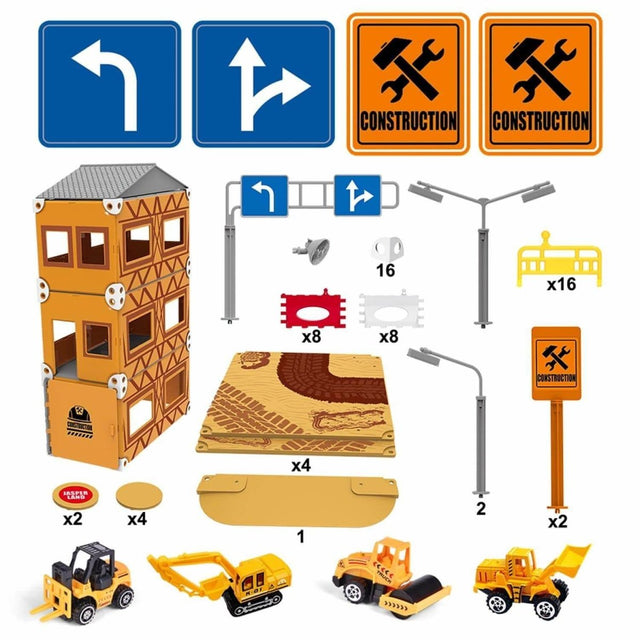 Get Ready to Build with the PopFun
Construction Building Kit Toy Set 

The Construction Building Kit collection from Fun Little Toys combines 120+ fun constructible parts into one exciting and educational product: featuring a construction tower, two die-cast construction trucks, construction zone signposts, street lamps, zone barriers, and more.
Utilizing the kind of creativity only a child can harness, this product is bound to provide countless hours of playtime entertainment that'll be as memorable as it is engaging!




Easy to assemble, and it's incredibly easy to get other loved ones involved. Parents will encounter a playtime experience that's relaxing for them and entertaining for the kids. Construct this super cool cityscape today!

Exciting Constructible Experience:

The Construction Building Kit collection provides all the fun that construction toys come with, along with all the educational benefits of our STEM toys. 

The CityScape of a Lifetime:

This collection of construction toys engages the creative young mind at a level that's not-often seen in toy stores.

The Smart Way to Play:

These building toys provide a playtime experience that brings educational entertainment to a whole new level.

Assembly Made Easy:

Pop Fun's Construction Building Kit collection contains pieces that come together effortlessly. Easy assembly and detachment makes both playtime and clean up hassle-free. 

Built to Last:

Every piece in these toy building sets are made from the highest quality material on the market: 100% ABS plastic that's guaranteed to be completely safe and BPA-free, making it a worthy investment!