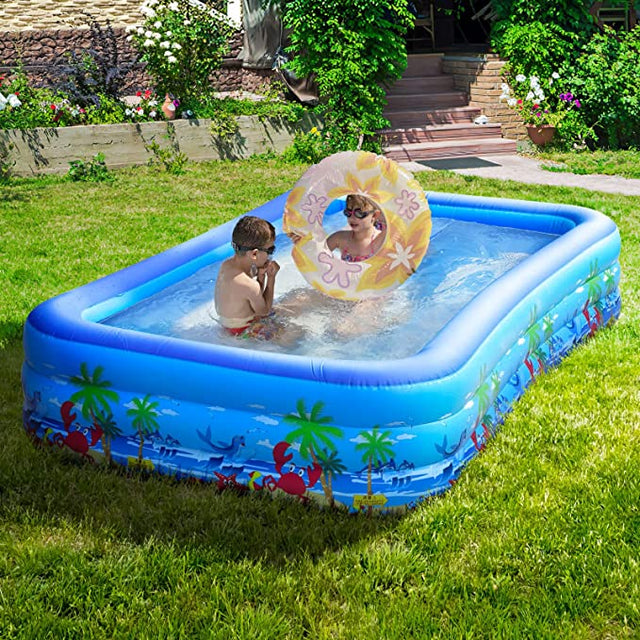 The Must-have Pool Toy: Fast Install Adults+ Kids Inflatable Swimming Pool
Looking for the best pool toys for kids? An inflatable kiddie pool has become an indispensable part of the hot Summer! They are easy to install (take only a few minutes to inflate), clean, and store. Most importantly, they bring tons of fun and are great add-ons for your pool parties!
Features of the Inflatable Kiddie Pool
LARGE AND PORTABLE: This inflatable swimming pool is 118" L x 72"W x 22" H which means it can accommodate 2 adults and 3-5 children. The Intex inflatable pool has a large capacity and can hold 310 gallons of water.
SAFE AND DURABLE: Our inflatable kiddie pool is made of durable UV-resistant materials that block harmful UVA and UVB sun rays, making it extra safe to use during hot, sunny days. It's CPC and ASTM certified to meet international standards for children's toys.
EASY INSTALLATION AND CLEANING: This inflatable swimming pool can be inflated in minutes with a pump. Besides quick installation, the built-in drain plug makes it very easy to drain.
First-time use note: There will be some smell when the swimming pool is first opened. This is completely normal and please remember to ventilate.
Perfect gift for kids, family, and friends: Not only it can be used as a swimming pool, but also as a ball pool, sand pool, fishing pool, and toy pool - where kids can have fun on hot summer days.