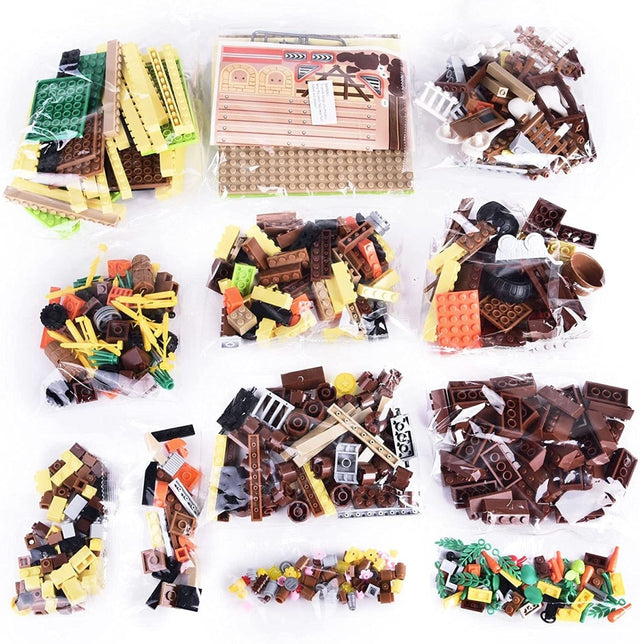 A Set of House Building Toys Presenting the Complete Farm Experience
The Farm Building Blocks from Fun Little Toys features an agricultural country scene populated with 1 Classic Farmhouse, 1 Garden, 1 Play Tractor & Log Cart, and plenty of adorable Farm Animals. Horses, Cattle, Pigs, and more arrive ready to live out their farmhouse dream in the farm animals building blocks provided here. Encourage your children along in the development of their ability to quickly identify and recognize common livestock found in farms all around the world. 
Mini blocks making for an absolutely adorable atmosphere are yours to enjoy inside this kids country playset. Delight yourself in the beautiful flowers and rows of wheat filling the space throughout the farm.
 Benefits of the Farm Building Blocks for Kids
Fun Farm Design: Includes 1 Classic Farmhouse, 1 Garden, 1 Play Tractor & Log Cart, and plenty of adorable Farm Animals.
Adorable Atmosphere: The Farm Building Blocks Provide that Classic Farmhouse Atmosphere in 1 Exciting Box
All Types of Livestock: Horses, Cattle, Pigs, 1 Precious Pet, and More Arrive Alongside this Product
Measured with Care: Measuring 8.2" L x 2.6" W x 7.1" H, the Classic Farmhouse is perfectly suited for the little ones. Set it out on display to dazzle and delight passersby
Ages 6 & Up: Fun Little Toys makes safety a priority. Please do note that these home, garden, and tractor building blocks are intended for use by children ages 6 and older