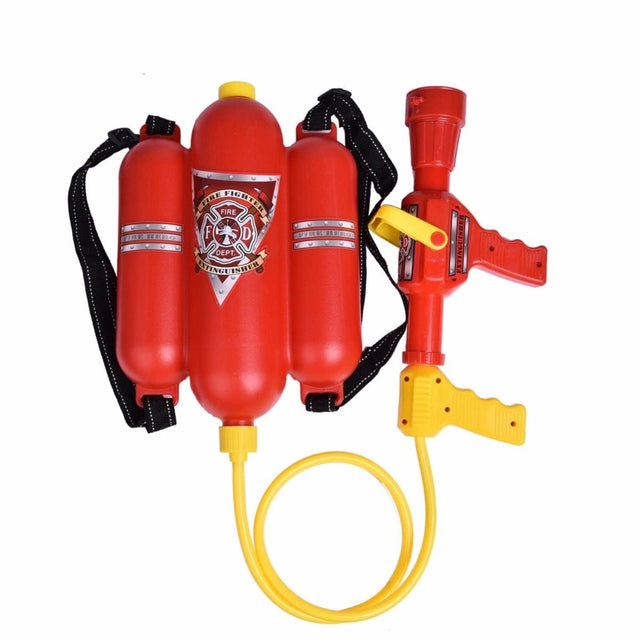 It's time to beat the heat with Fireman Backpack Water Blaster only from Fun Little Toys
The Fireman Backpack Water Blaster is going to amaze your kids this summer season. Little firefighters will have no problem beating the heat with this wonderfully-designed water blaster. The blaster itself connects to the handy backpack 'water tank' refill, which holds up to 80 ounces of water: over half a gallon!
A Fireman's Best:

The best backpack water blaster around - amazingly affordable too.

Backpack Entertainment:

Friends won't find a problem strapping on the backpack & getting to work with these exciting toys.

Enjoy Anywhere:

Bring the Fireman Backpack anywhere after seeing its extreme portability combined with action-packed blast-ability!

Imagination Station:

Whether it's play-fighting a play-fire or just getting into a good ol' fashioned water war, the creative choice is yours. 

Hero Play:

The Fireman Backpack Water Blaster offers imagination toys that allow kids to channel the heroes that our firefighters truly are. 
Product FAQs:
Question:
Is this pump action?
Answer:

Yes, it is a sliding pump. I have a 4 yr old and 6 yr old that each have one. The pump action is easy for them to use. One of the guns works better than the other, but they do like playing with them.
Question:
Do all 3 tanks fill up with water?
Answer:

Yes, it's all one big container.