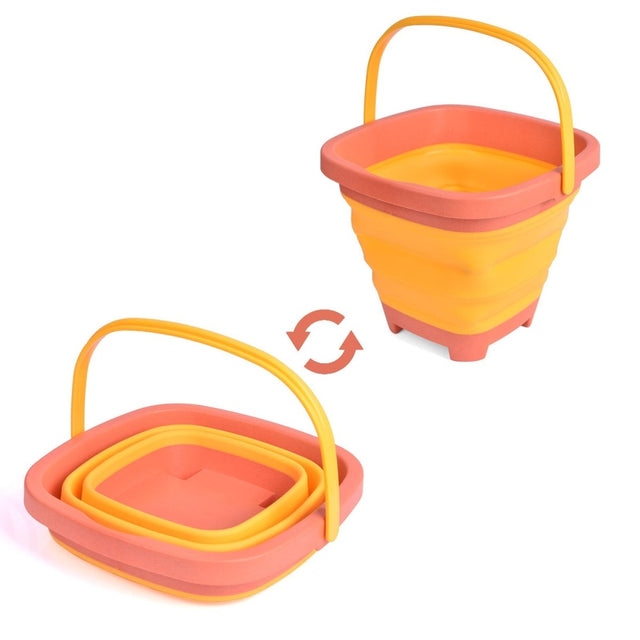 Foldable Buckets Beach Toys Set with Handle
The 3 pcs collapsible sand buckets provide the most convenient beach experiences. Also perfect for outdoor swimming and camping for your kids. Adorably bright colors and a cute, fresh look to the classic sand bucket design display in this multi-occasion pack.
Features of the Foldable Buckets Beach Toys Set
Beach Bucket Bundle:
The Beach Bucket Bundle from Fun Little Toys packs 3 beautiful beach buckets into 1 awesome package! Each of these beach toys displays a different color: Pink, Orange, and Blue. Your kids are going to enjoy endless entertainment with this wonderful bundle.
Easy to Handle:

 

Pick up a sand bucket with ease using the easy, breezy handle system attached to each. Sturdy and durable, the handles make moving the bucket to and from the shoreline a fun and simple task.
Versatile Bucket Style:

 

Kids can pack these beach toys with all sorts of stuff – whether it's helping the family out with transporting some cool, refreshing drinks or simply filling them up with sand crabs at the shore-break! Get creative with it and throw in some of your favorite beach toys – the choice is yours!
Portable and Storable:

 

Designed with a creative collapsible feature, these buckets are easy to transport and even easier to store. Once you're all done at the beach, pool, or playground simply collapse the buckets down and stack them on top of one another. Beach toy fun has never been this simple.
Sand Castle Creations:

 

he Beach Bucket Bundle comes with beach buckets that are pre-shaped for awesome sand castle creations. Each collapsible bucket makes for marvelous sand molds guaranteed to bring joy to the hearts of everyone on the beach, or at the playground. Make sure to get your Beach Bucket Bundle today!