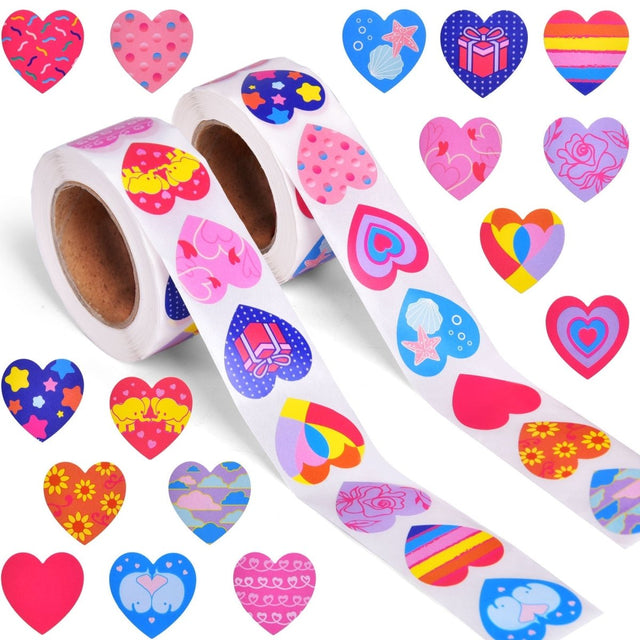 1,000 Pieces Heart Stickers for Valentine's Day
Happy Valentine's Day! The cute heart-shaped stickers are fun for daily decoration. Children will love these stickers and enjoy decorating their stuff, bringing unlimited fun to their lives. These beautifully designed stickers are strong self-adhesive, waterproof, and anti-dirty. Ideal for homemade Valentine's cards, decorating your favorite notebooks, scrapbooks, and greeting cards. Stick anywhere you love or even stick to your clothes or skin for a day. These fun stickers also make great classroom treats or school carnival prizes. As a great gift for kids to enjoy Valentine's Day, don't miss out on the joy these heart stickers will provide!
Features of the Heart Stickers
Unique Design:
Valentine's Heart Stickers, including 1000 pieces of hearts stickers with 16 unique designs. There are 2 rolls of 500 heart-shaped stickers in 8 different styles and the measurement of each heart sticker is 0.94 inches.
High-Quality:

 

100% trustworthy quality guarantee, environmentally conscious design, toxin-free material, tasteless, and self-adhesive.
Fun and Enjoyable:

 

Colorful heart-shaped stickers are waterproof and easy to peel off, and come in assorted colors and designs.
Wide Application:

 

suitable for stick-on notebooks, DIY, and painting, teachers can stick these stickers on grade books as a prize to show their performance.
Ideal Gift:

 

As a great gift for parties, birthday parties, class parties, class prizes, and gift exchanges, suitable for students on Valentine's Day. Used in valentine's cards, gift packing, and notebooks.