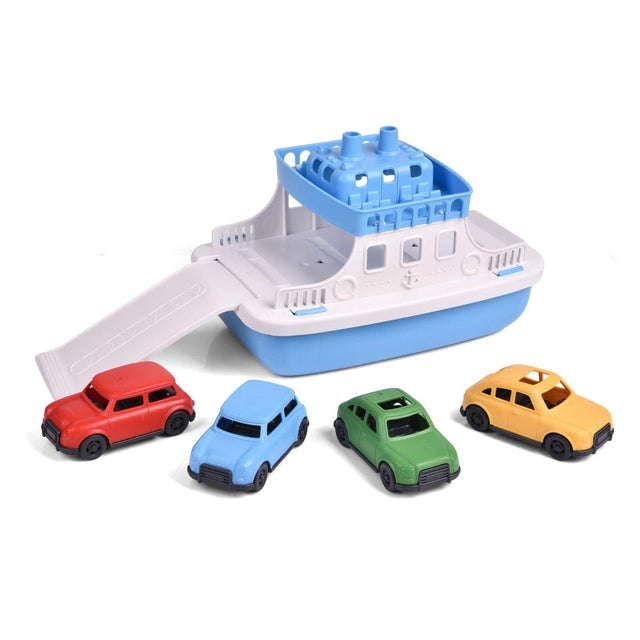 A Set of the Best Bath Toy Boats is Available with the Incredible Toy Boat Carrier
An almost 10'' long happy floating ferry boat that comes with 4 mini cars for toddlers. The ferry boat features a spacious cargo area. Slide out the loading ramp and drive the 4 cars up and down into the hull. Aquatic exploration and imaginative play float straight into hours of excitement when toddlers set sail with the ferry boat. The bathtub, pool, wherever there's water, sailing adventures are quick to commence!
Let your kids experience a bathtime play experience that they're going to cherish for years to come! These toy boats are going to transform playtime in the water into an exciting time of joy for parents and children.
 Features of this essential Bath Toy Boat Carrier
Floating Ferry Boat: Includes a floating ferry boat bath toy. The ferry boat measures 9.84'' (L) x 7.09'' (W) x 7.87'' (H)
4 Mini Cars: There are 4 mini cars in assorted colors (red, yellow, green, and blue). Each car measures 3.94'' (L) x 1.97'' (W) x 1.57'' (H).
Super Fun: Toy boat bath toys for toddlers, making bath time or pool time more fun
Perfectly Sized for Easy Play: This exciting water toy playset is perfectly sized for playtime, allowing easy and effortless engagement with each vehicle inside
Free Shipping, Safe Checkout:  PopFun is providing Free Shipping! Combined with our Promised Safe Checkout, there's nothing stopping you from buying today