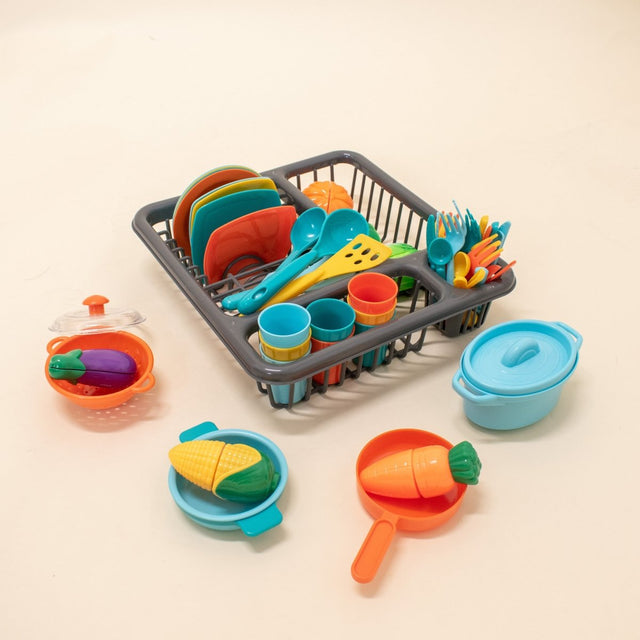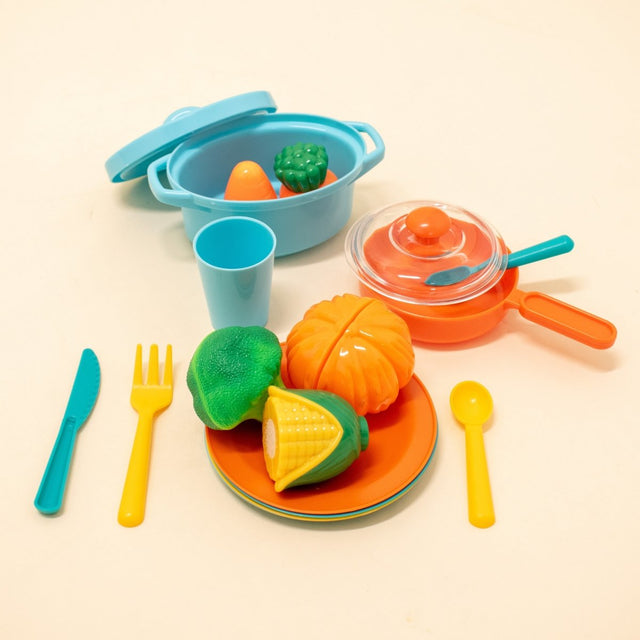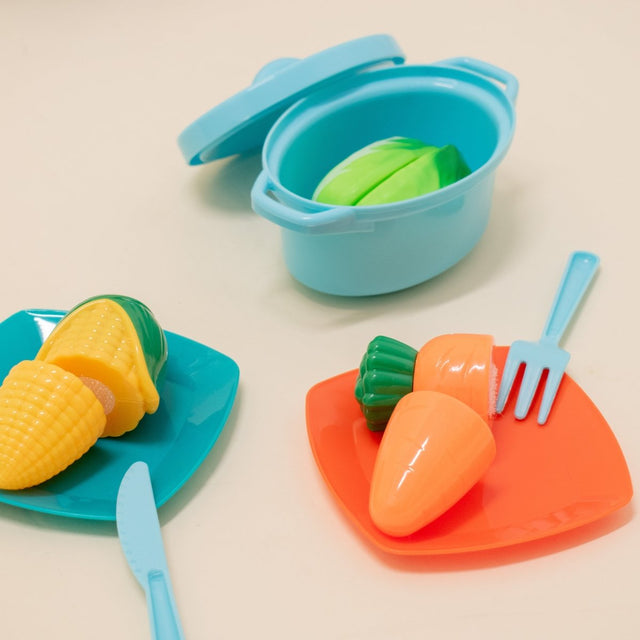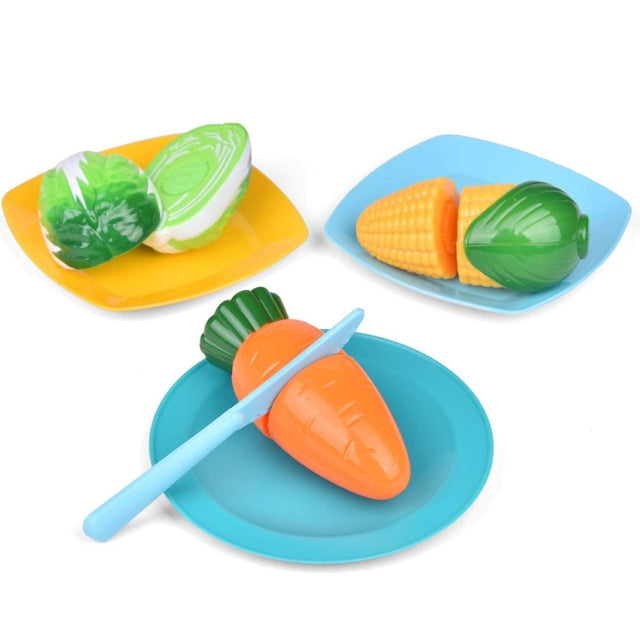 The Best Grocery Playset is here - the Kid Kitchenware Set from PopFun
This toy kitchen accessories cookware set contains everything that you'll ever need to host a homemade feast. 54 pieces include a dish drainer rack, plates, cups, pots & pans, cooking tools, cutleries (forks, knives & spoons), and cutting vegetables. Little ones feel just like mom and dad as they slice up each piece of vibrant vegetable using the plastic knife. The Velcro-like fasteners provide the perfect resistance to the knife so little ones feel like they're really cutting a real piece of food. Pots, pans, and all the dish accessories are kid-sized and are every bit as detailed as a real one. This plastic dishes play set comes with a mini dish drainer, so you can teach your little ones the importance of cleanup after a meal as well.
Play kitchens are made to help toddlers develop their social skills as they pretend to cook, pretend to serve food, and clean up the kitchen. Activities that require interaction with others and can help kids develop their socialization skills!
 The Features of the Best Grocery Playset for Kids
Kid Chef's Collection: 54-piece toy kitchen accessories cookware set includes a dish drainer rack, plates, cups, pots & pans, cooking tools, cutleries (forks, knives & spoons), and cutting vegetables; everything is ready for a little chef needs to prepare an imaginary home feast
Wide Variety of Materials: A variety of cutting food (pumpkin, carrot, corn, eggplant, cauliflower & cabbage) are beautifully painted with vivid details, vegetable halves connect via Velcro-like fasteners, and come apart easily when the child chops & slices
Safe Playset: Break-resistant & dishwasher-safe toy dishes kitchen pretend play sets for toddlers are made of the highest quality ABS plastic, free of BPA, PVC & phthalates, and 100% safe for kids to play
An Excellent Gift: This play dish set for kids is an ideal gift, perfect play kitchen, Christmas gift, birthday present, or any gift-giving occasion for your niece, daughter, or granddaughter
Free Shipping, Safe Checkout: PopFun is providing, for a limited time only, Free Shipping with your purchase! Combined with our Guaranteed Safe Checkout