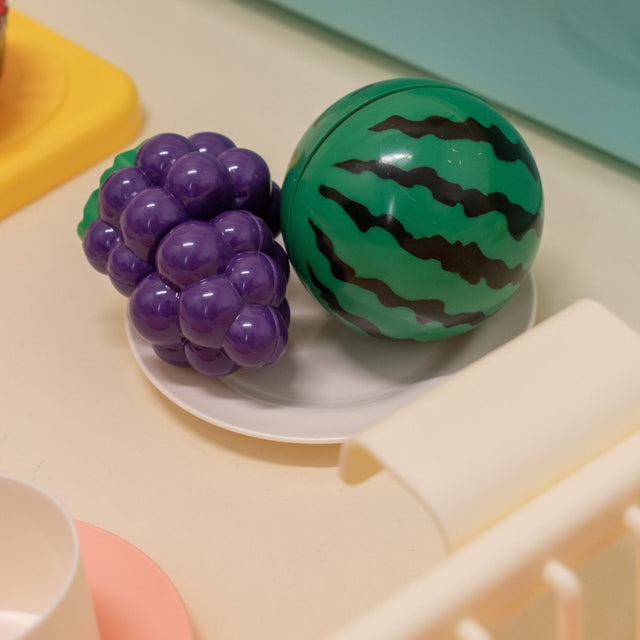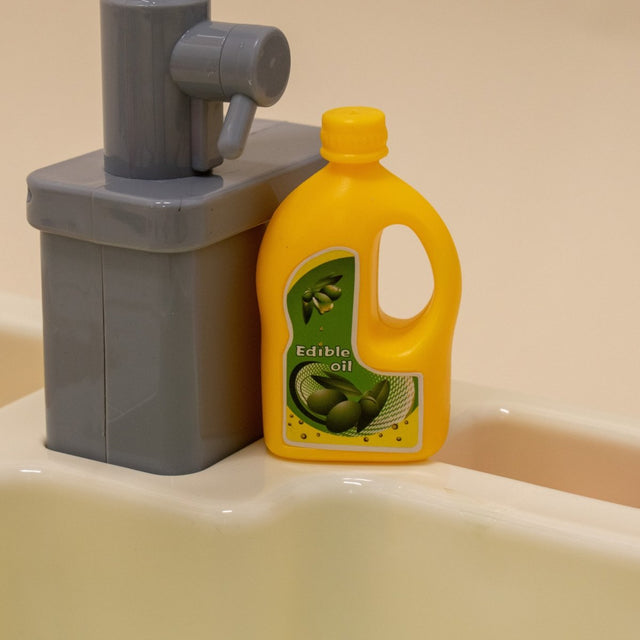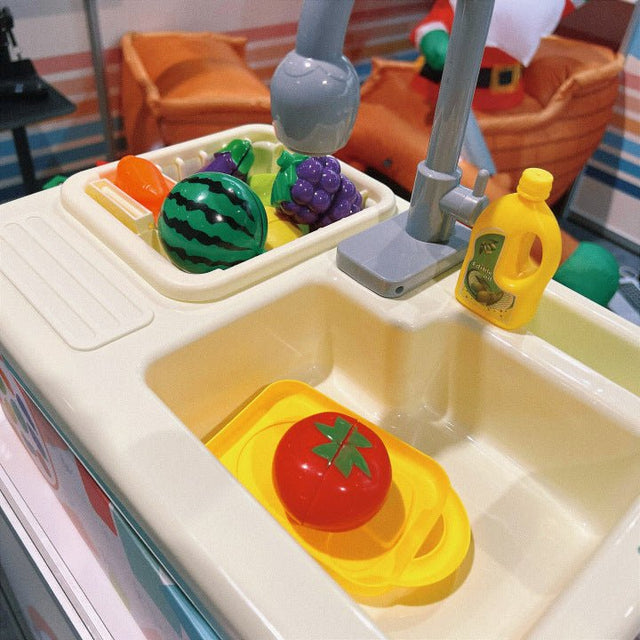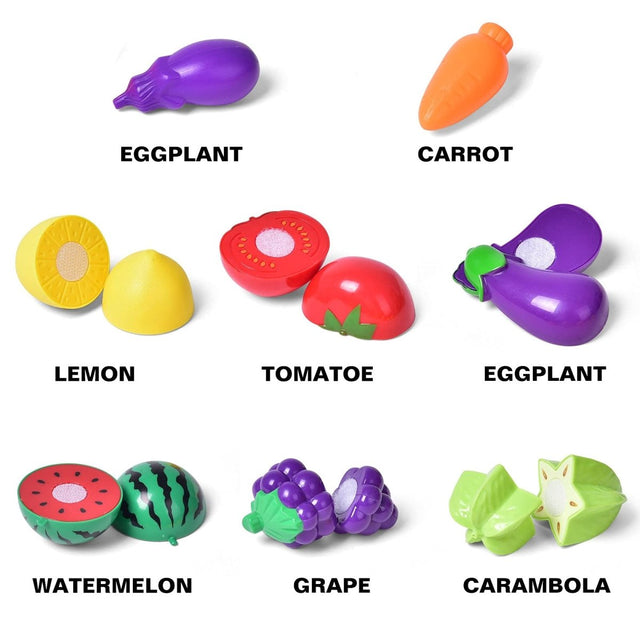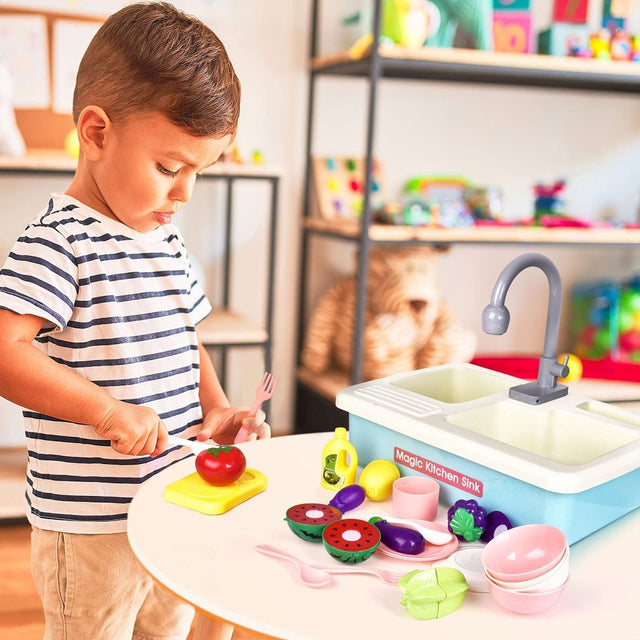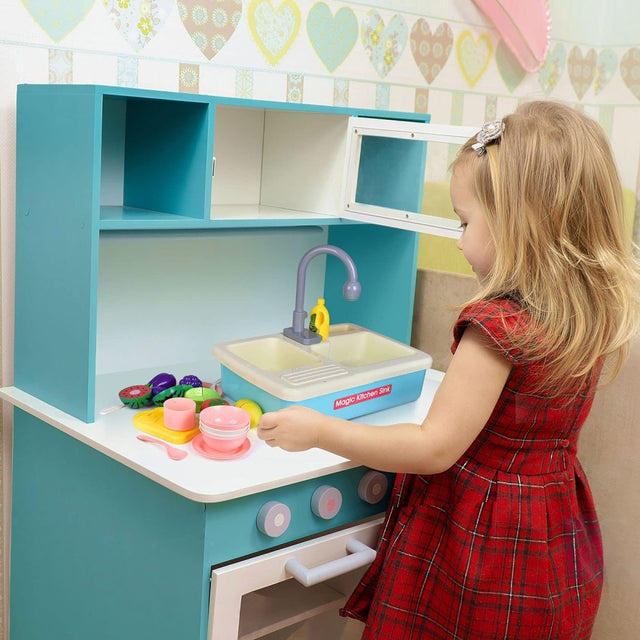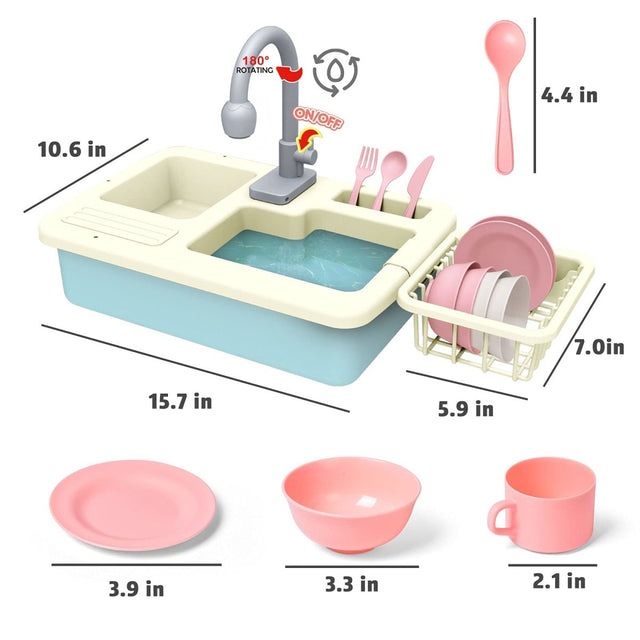 Learn Kitchen Skills with the
Pretend Play Kitchen Sink Set
31 different play pieces will give your little ones ample practice to the real-life dish washing experience. The set features a kitchen sink, realistic looking detergent, a play cutting board, beautiful bowls, cups, precious plates, utensils, an assortment of fruits and vegetables, a drying rack, and so much more! 
By filling the sink with water, your little ones are able to clean, clean, and clean without any of the mess – the sink recycles water from the tiny tub area into the faucet making for endless fun with friends in a little kitchen of their very own. When you are done, snap on the drying rack to the side of the kitchen sink and dry all of your utensils, bowls, cups, and more!
The realistic fruits and vegetables are cut with a play knife on top of a little cutting board. All of the fruits and vegetables are 2 halves held together by Velcro. Cutting into the play fruit imitates the actual action. It makes the learning experience that much more interactive and authentic! 
Kitchen Sink Play Set Features

Colorful Set: Capture the attention of your children and gift them the Kitchen Sink Toys Set! With this play set, start early and train your little ones for kitchen success. 


Safe, Premium Quality: Pretend play for your toddlers should be of the highest quality to very closely emulate the actual experience. Fun Little Toys also meets and exceeds all safety standards. Parents can rest easy knowing that the toys are safe for their kids.


Amazing Value: This affordable set is worth every penny if it means setting them up for organization and success! Help them learn how to stay organized in the kitchen, how to slice things safely, and how to properly wash dishes, fruit, and vegetables. This is a great investment on their future and foundation. 


Worry-Free Warranty: The product comes alongside a 90-day worry-free warranty. Do not hesitate to contact us if there are any issues! 


Core Information
Product dimensions: 19.29 x 10.63 x 5.31 inches.
Manufacturer recommended age is 3 years and up.