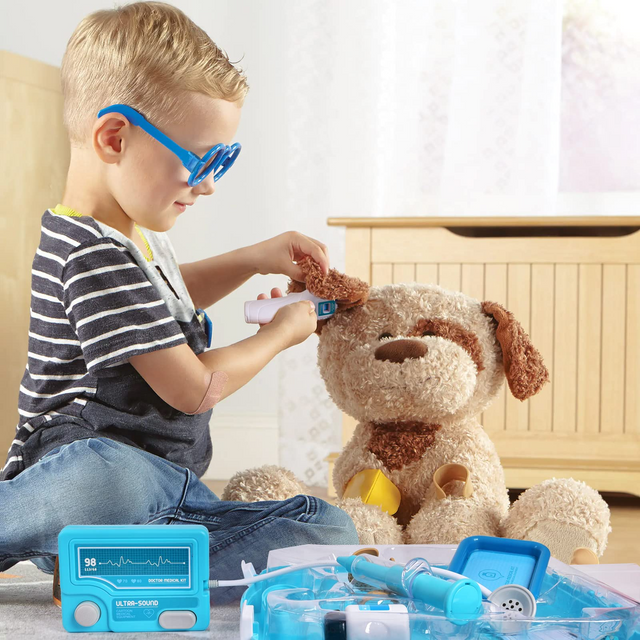 Best Doctor Pretend Play for Kids
Come & see the best kids' doctor kit featuring plenty of pretend-to-play medicine man pieces for friends to enjoy: a play stethoscope, play scalpel, pretend temperature taker, play meds & so much more! Get to enjoy some of the best imagination play that PopFun has to offer with the Kid Doctor Pretend Play Kit today. 
18 PIECES TOY DOCTOR KIT?: The doctor kit for toddlers includes an electrocardiograph toy, a pair of glasses, an otoscope, a record board toy, tweezers, syringes, scissors, reflex hammer, digital thermometer, band-aid, tray, etc. All the kid's doctor playset is stored in a sturdy and large medical kit. Snap-lock latches keep the case securely closed and are easy for children to handle.

REALISTIC SOUND & LIGHT EFFECTS ?: Our kid's doctor playset thermometer has an amazing light-up feature. When your child gently presses the button on the thermometer, the temperature will go from 37.5 to 36.5. If pressed hard, you and your kid will hear a beep. The temperature will increase from 37.5 to 38.5, and the thermometer will light up red.

FUN DOCTOR PRETEND PLAY TOY?: When your kid inserts the toy ECG card into the electrocardiograph toy and presses the right button, the ECG report card will be ejected, which will be unexpected fun for your kid. Besides, our doctor dress-up toy comes has a real recording board, and children can clip their favorite cards.

Educational Doctor Kids?The Pretend Doctor set not only stimulates children's imagination and creativity but also develops their compassion and social skills. Being a little doctor helps to relieve your child's anxiety when visiting doctors. It is the perfect Party favor, Pretend Play, Role Play, School Classroom, Holiday Toy Gift, and Christmas Gift, and creates hours of Fun Playtime.

SAFE AND DURABLE DOCTOR TOY?: The doctor play set is made with high-quality plastic and meets the safety requirement of ASTM. These tools have no sharp parts, so you don't have to worry about kids hurting themselves while playing. If you have any questions or concerns about the safety of our doctor kit, please do not hesitate to contact us.