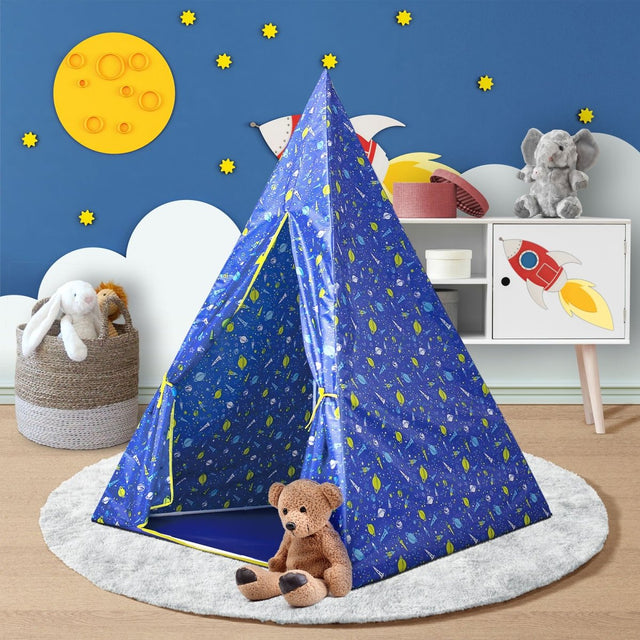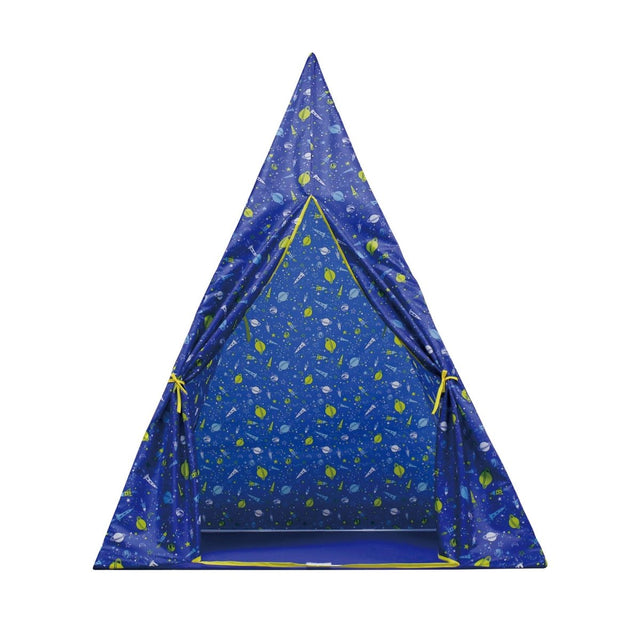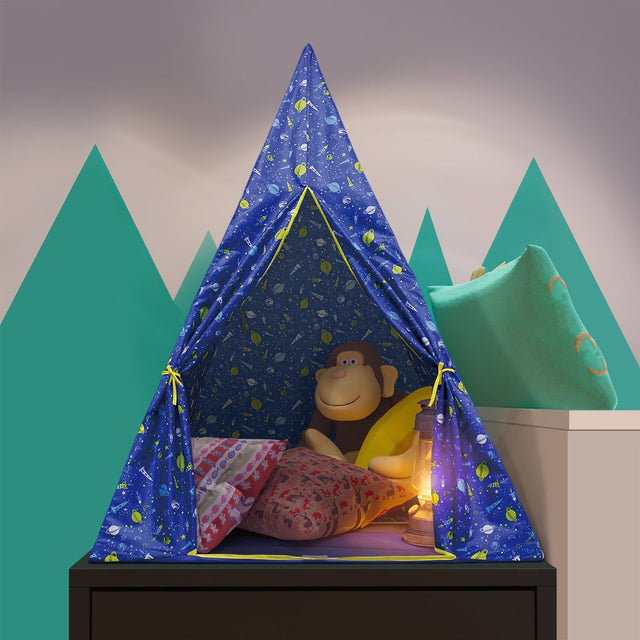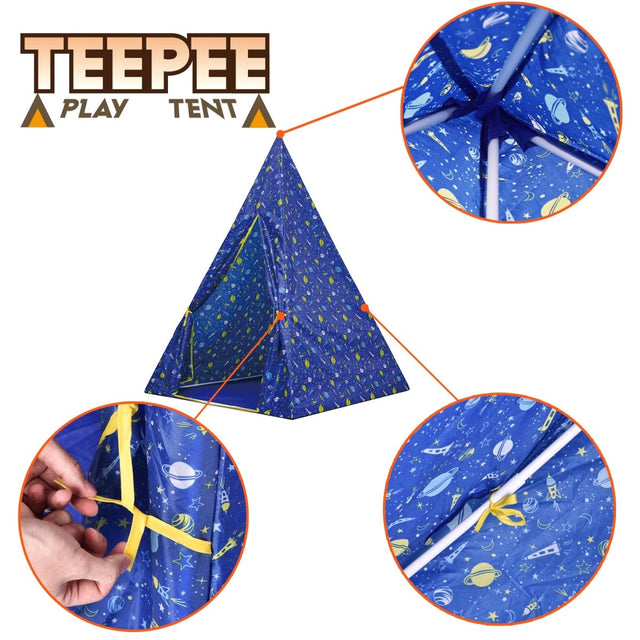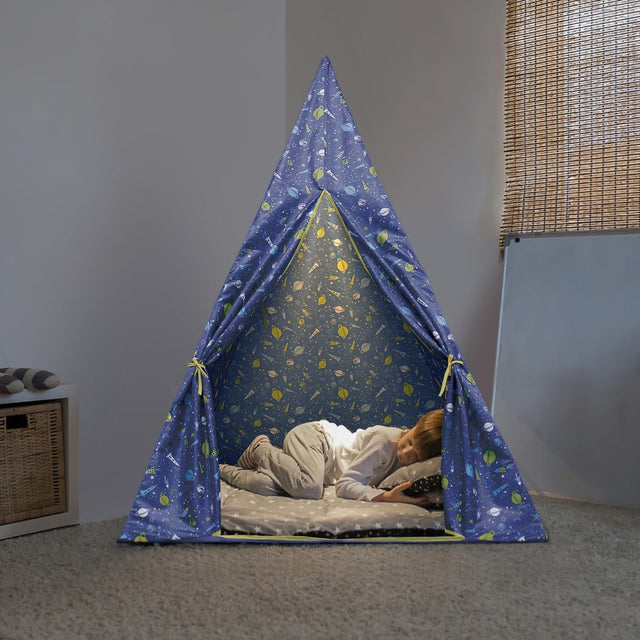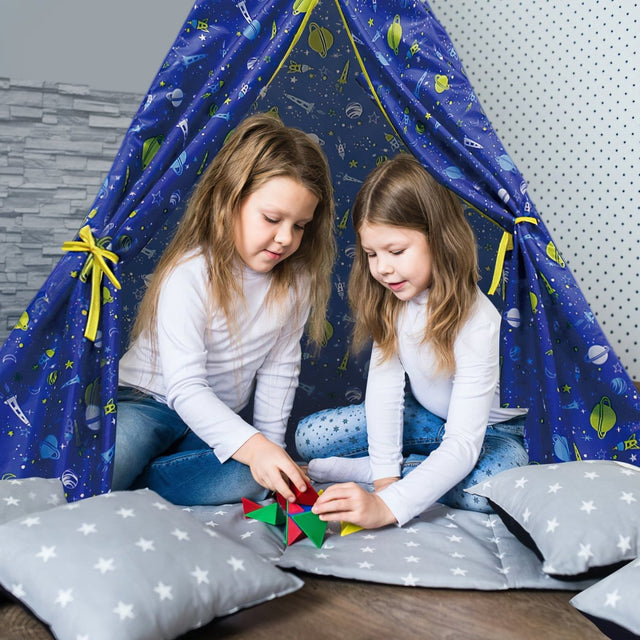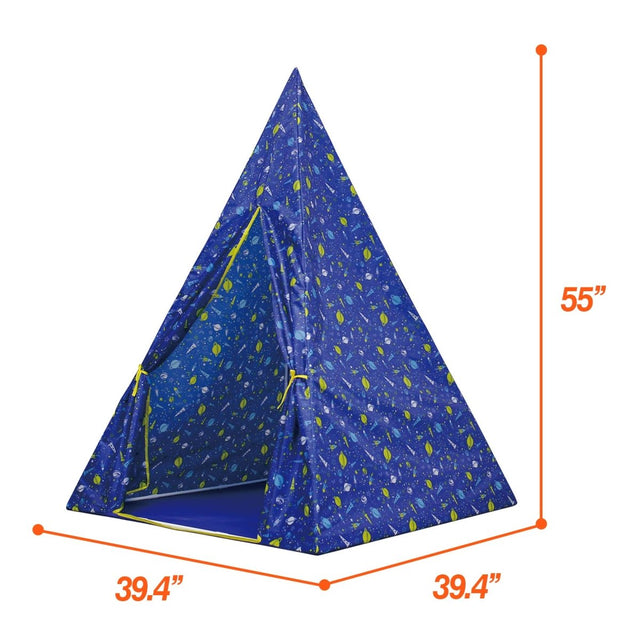 Let's embark on an astronomical exploration with this galaxy-themed play tent!
This will become your very own play tent for all the creative fun and imaginative play of your dreams! The play tent is designed for both indoors and outdoors! It is a great choice for families to take on the go because it is portable and can be taken anywhere! Play tent dimensions measure 39.4 inches long, 39.4 inches wide, and 55 inches tall. Collapsible and lightweight construction make assembling and disassembling a very smooth process. Simply unpack the tent, install support rods and poles and you are ready for a whole day of fun! Specifically designed for kids to have their own play area but allows for easy adult supervision. Take it with you anywhere you like and enjoy feeling comfortable in this creative space. It's time to relax!
Play Tent for both Indoors and Outdoors

: This play tent for kids provides a wonderful space to play. A great choice for families on the go, ensuring that kids will have plenty of imaginative fun and creative play whether they are at home or away. Play tent dimensions measure 39.4 inches long, 39.4 inches wide, and 55 inches tall.

Specifically Designed for Kids

: Provides children a make-shift playhouse that will give them their own private space. Featuring a cute triangular design, the flap door openings have tiebacks to keep it neat and tidy. The play tent features galaxy and space prints! Breathable and non-irritating material offers plenty of space internally for your kids to nap, read, and play.

Simple and Effortless Set-Up

: Portable, collapsible, light, yet sturdy construction! Makes assembling and disassembling a smooth process. Simply unravel the tent, insert support rods for additional stability, then insert poles from the bottom of the triangular play tent into concealed sleeves for maximum safety and presentation.

Sturdy and Durable Composition

: Premium 180T polyester taffeta material and sturdy PVC poles create a stable structure and will comfortably serve as a playhouse full of wonderful memories for ages to come. Easy to clean; simply wipe any spots away with a damp towel. Stores easily after playtime.

Designed for Creative and Imaginative Play

: This galaxy play tent is perfect for pretend play. A group of kids can also play peek-a-boo with each other! Kids can unleash their imaginations and have fun in this creative space. The tent is also great for sunny days at the beach, summer sleepovers, backyard camping, playtimes at home, and much more!