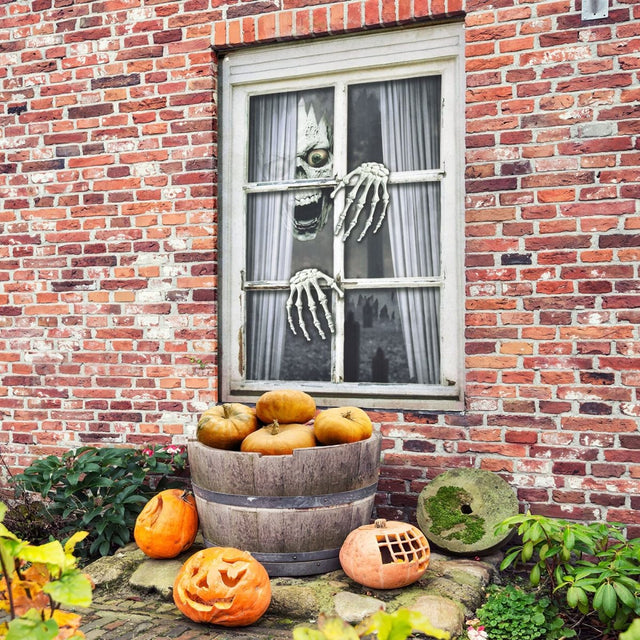 Watch out for the Skeleton Window Ghost from Fun Little Toys
Perfectly measured to make your home emanate that scary atmosphere, the Skeleton Window Ghost is the choice for you this season. Effortlessly put it up in any window in the house and you're set to leave an impression on your neighbors and family. Get creative with your placement of this seasonal Halloween décor. Place it on a window in the living room and face it inwards, giving your indoor guests the scare of a lifetime. At the magical measurements of 31.5" L x 47.2" H, you won't face any problems with the location of the festivities.
The Window Ghost will be the perfect complement to any of your Halloween decorations. And at this affordable value, check out the rest of the Fun Little Toys Halloween Collection and make the Skeleton Window Ghost apart of the entire set. Each seasonal piece in our set is designed to last you more than just one season too, so don't be afraid to reuse it.
Atmospheric Amazement: The Skeleton Window Ghost from PopFun is a Halloween window decoration destined to have neighbors and friends festively frightened this holiday season
Macabre Measurements: Measuring 31.5" inches in width and 47.2" inches high, these scary decorations are perfectly fit for windows in any home
Hole-y Holiday Delight: Fit with holes for easy and effortless assembly, the Window Skeleton can be hung from windows and taken down in just seconds. Use as a part of your glass window décor or Halloween door decorations, and it's guaranteed to be no mess, and easy transport
Dauntingly Durable: A Halloween door cover this durable is meant to last. Use it from spooky season to spooky season, as this material is going to withstand more than just the normal wear & tear
Worry-Free Warranty: This product comes alongside a 90 day worry-free warranty 
Unit Size and Unit Weight

:  11.81*11.81*0.39[inch] & 0.28[lbs]