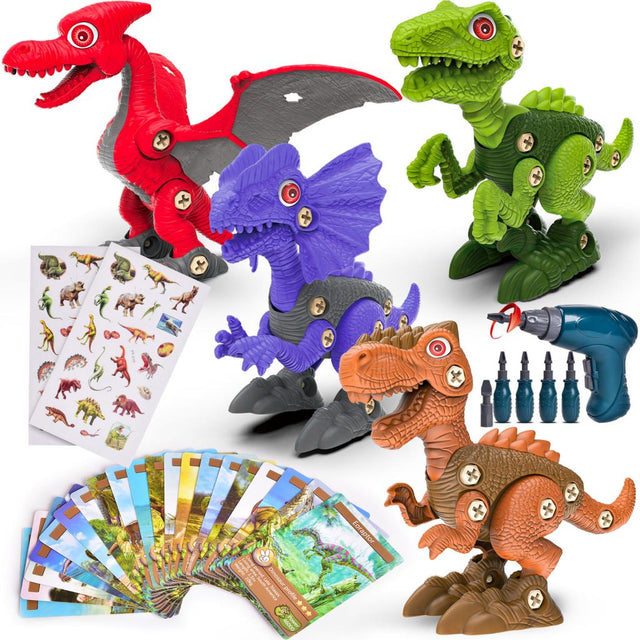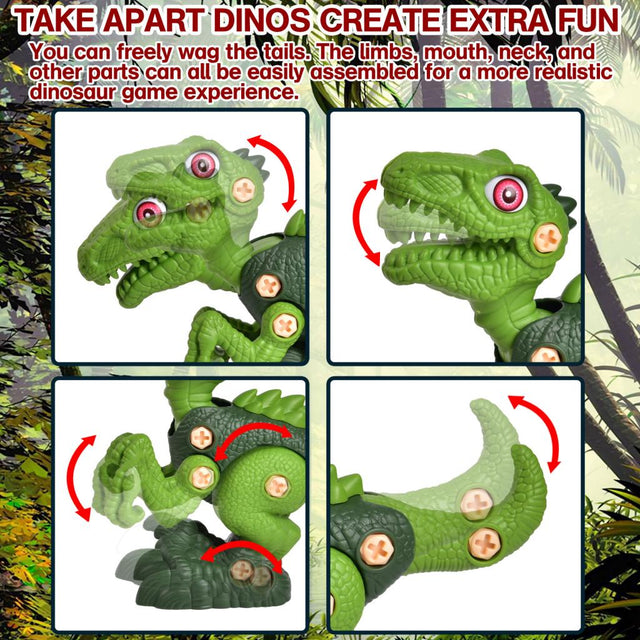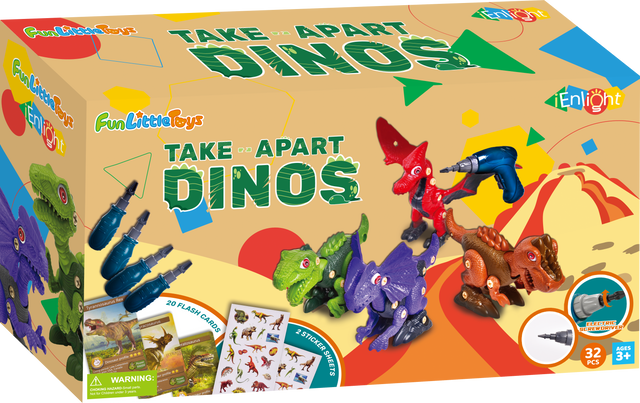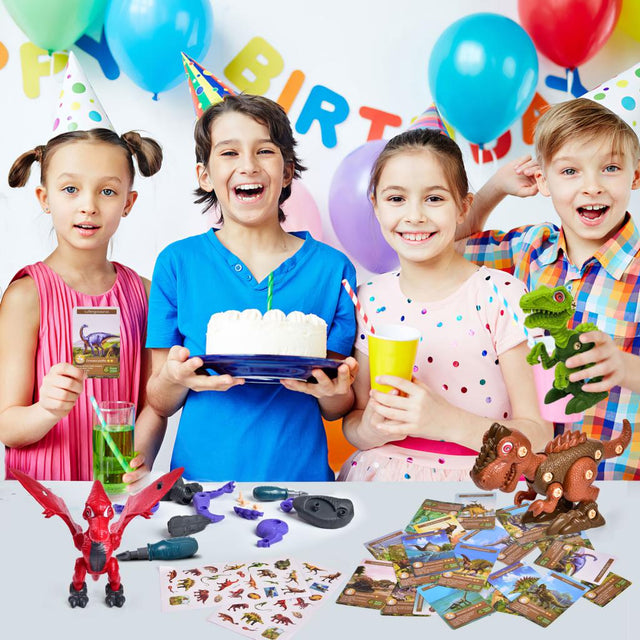 Learn and Play with Take Apart Dinosaur Set (4pcs)
The Take Apart Dinosaur Set (4pcs) is a fun and educational toy for children who are interested in dinosaurs and enjoy hands-on activities. It comes with four different dinosaur models that can be disassembled and reassembled, allowing kids to learn about the structure of these prehistoric creatures while improving their fine motor skills and problem-solving abilities. 
Develop structural thinking. Helps your kids to explore the structure of dinosaurs in the process of deconstructing and assembling dinosaurs. Multiple parts of the dinosaur can be tightened with screws. The assembly is simple and effortless to exercise your children's hands-on ability.
Five Key Features:
Engaging DIY Take-Apart Dinosaur Toys: This set includes a brown Tyrannosaurus Rex, a red Pterosaur, a blue Dilophosaurus, and a green Velociraptor. It also comes with 2 dinosaur sticker sheets featuring over 20 species and 20 informative dinosaur flash cards that provide details such as T-Rex, Mosasaur, Stegosaurus, living periods, habitats, lengths, and weights.
Superior Quality Dinosaur Toys: Crafted from durable ABS plastic, our dinosaur toys are built to last and resist breakage. The stickers are manufactuered with strong adhesion, optimal thickness, and appropriate sizes, leaving no residue. Our dinosaur cards are printed with non-toxic ink, double-sided film coating, and rounded corners for your child's safety.
Abundant Accessories: The set includes 1 electric drill with 2 AA battery slots (batteries not included), 2 distinct drill bits, and 4 manual screwdrivers. The electric drill operates at a low speed and automatically stops when encountering obstacles, ensuring safe screw tightening and loosening. The manual screwdrivers allow multiple children to play and create their own dinosaurs together.
Dinosaur STEM Educational Toys: Children can manipulate the dinosaurs' heads, hands, and feet, adjusting their bodies to form various fighting postures. This hands-on learning experience helps them understand the world of dinosaurs while enhancing hand-eye coordination and stimulating imagination.
Perfect Gift for Kids: Ideal for boys and girls aged 3-8, these take-apart dinosaur toys make excellent gifts for Easter, birthdays, Christmas, or parties. Suitable for at-home play or as an educational tool in kindergarten and elementary school classrooms.