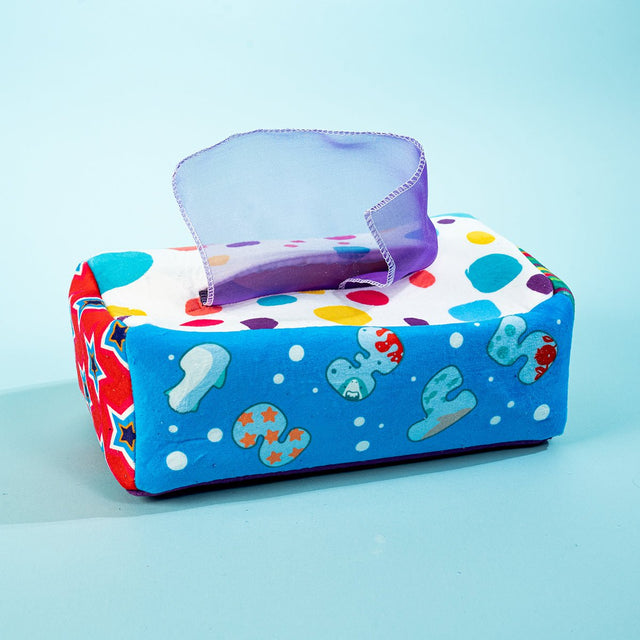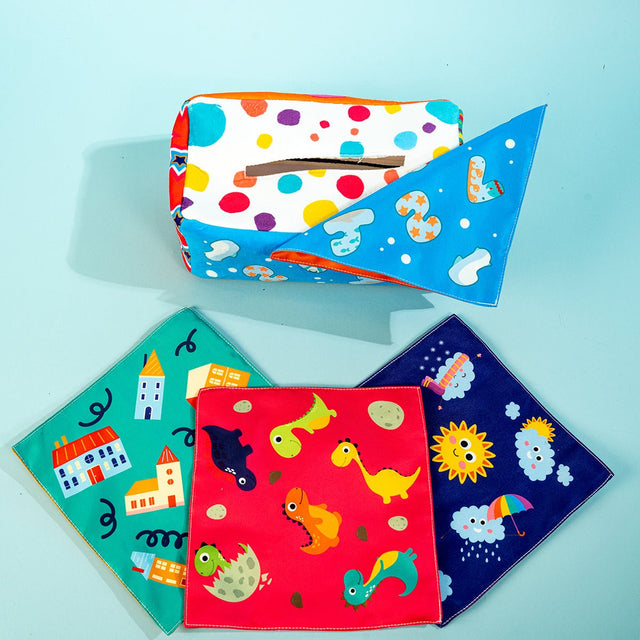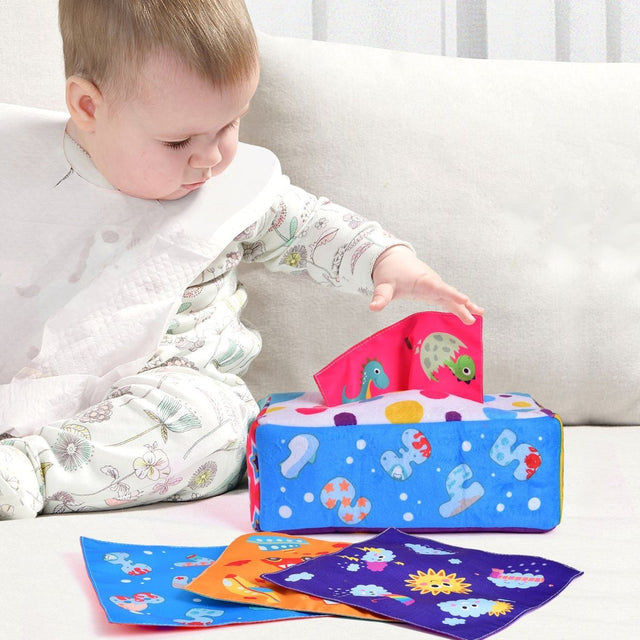 Infant Sensory Magic Tissue Box Toy
Introduce the product and its purpose: The Baby Tissue Box Toy is a playful and practical solution for parents who want to keep their little ones entertained and engaged during diaper changes and other daily routines. This toy is designed to look like a real tissue box, but it's much more fun and interactive than the real thing! With bright colors, soft textures, and a variety of tactile elements, this toy will capture your baby's attention and help them develop important sensory and motor skills.
Features of the Baby Tissue Box Toy
"1.PERFECT SOLUTION- Are you looking for a safe and fun solution for your baby when they are constantly pulling facial tissues out of a box? The Toddler Tissue Box Toy is the perfect answer - it allows your baby to explore their curiosity and develop their sensory system by pulling soft tissues out of the box.

2. IDEAL SENSORY TOY - This Montessori Tissue Box Pull Toy contains 4 crinkle paper and 15 silk scarves, providing both sound and colors to boost your baby's attention. The pattern of tissue paper is also different, with animals, numbers, alphabets and weather, allowing your babies to learn through playing. It is the ideal preschool educational toy for babies just starting to explore the world.

3.EARLY DEVELOPMENT TOYS - This baby fine motor tissue box encourages babies to pull, bite, knead and throw paper towels, aiding in their motor development and movement coordination. Parents can also throw the silk scarves from the air and let the baby catch them (Parent supervision required all the time).

3. SAFE AND NON-TOXIC - The Baby Tissue Toy is made from safe and non-toxic materials, which are soft, durable and washable. You don't have to worry about your infant puting the toy in their mouth or causing injury due to hard and sharp edges.

 


5.GREAT GIFT - Give this magical Tissue Box Baby Toy to babies and toddlers as a birthday, Christmas or New Year's gift.