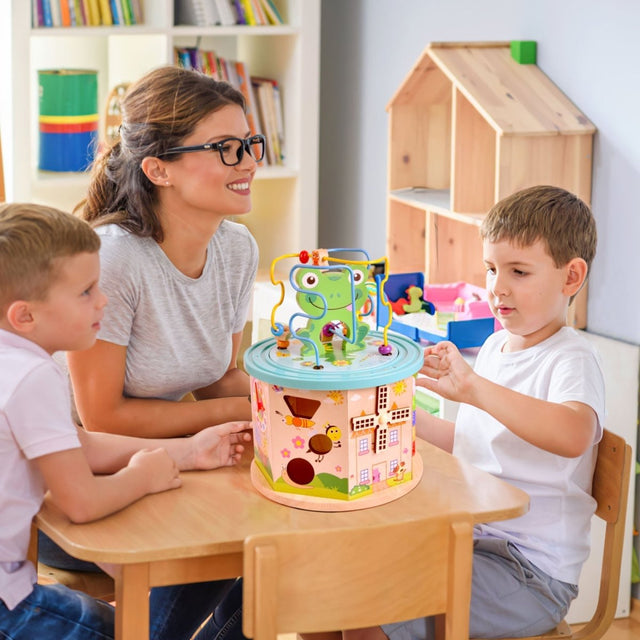 Baby Wooden Bead Maze
7 in 1 Wooden Activity Toy: This toddler educational toy has 7 surfaces that each represent an individual game, including spinning gears, a shape sorter, a windmill, counting beads, a hot air balloon clock, a dinosaur block puzzle, and a number puzzle. The toy box is colored with non-toxic and eco-friendly pigments. Every surface and edge has been carefully processed to ensure kids' safety.
No assembly is required. This is the perfect preschool Montessori toy for kids. This game box is a wonderful birthday gift for both boys and girls, matching their education and entertainment needs.
It has been highly recognized as a perfect toy with premium quality and high safety. As a gift, the game box will bring joy and laughter to your kids for a very long time.
Features of the Baby Wooden Bead Maze with Cute Cartoon Figures
Fishing Game:

 

Put the frogs into the pool and let's fish together! Wanna a competition? Let's see who can fish more? 
Fishing Game: Put the frogs into the pool and let's fish together! Want a competition? Let's see who can fish more! 
Airplane Chess: This airplane chess game is designed for 2-4 players. As a perfect parent-child interaction game, this will bring you and your kids massive fun! 
Fun Track Game: There are four car toys on the track, a school bus, a fire truck, an ambulance, and a taxi. Pick up one and start the journey! 
Convenient Stool: When kids are tired, this game box can be put reversely as a stool to sit on.
Animal Shape Sorter: Removable blocks with colorful and attractive pictures. Let your kids put the right block to the corresponding spot and name the animals. This learning toy is a mini activity center that will inspire kids' interest in recognizing new things and train their memory.
Dinosaur Block Puzzle: Try to arrange these blocks to the right place! This will develop your kid's logic, sensory skills, fine motor skills, and hand-eye coordination.
Bead Maze: Move the colorful beads along the wires, letting little beads fly around the frog. With smooth edges, the toy is 100% safe for kids to play with.
Colorful Counting Beads: The colorful counting bead mazes wooden can help kids learn different colors as long as learning easy calculations.