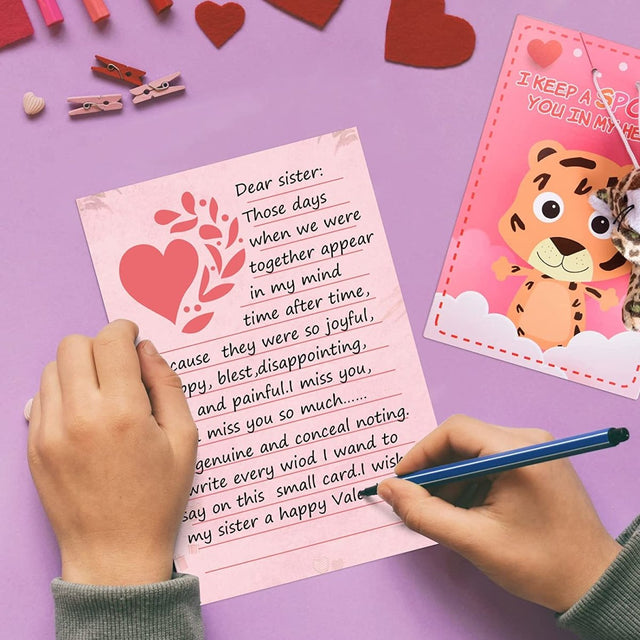 Cute Small Stuffed Animal  Animal Plush Toy as Perfect Holiday Gift
Check out the latest Valentine's Day gift card with an animal stuffed animal toy from Fun Little Toys! With various unique designs, you can always find the proper gift card to write down all the greetings and wishes to your friends or lover. These gift cards not only come with a valentine's Day theme but also perfectly fit different occasions, birthday parties, and graduation season ceremonies... Don't miss out on these little gifts that will make you and your friends build stronger connections.
Features of the Animal Cute Plush Toy
Adorably Designed: Valentine's plush toys set with 28 stuffed animals and 28 Valentine cards with unique 14 designs. Each animal has two cards with a corresponding image.
Measured with Care: There are 14 animal characters, including Elephants, cheetahs, tigers, Cows, Ducks, Donkeys, Frogs, monkeys, bears, lions, Sheep, Pink rabbits, dogs, and rabbits. Each plush toy is 2.5-3 inches tall and Valentine's Day card measures 3.9x5.9 inches.
Easy to Carry: Soft and comfortable, hang these cute plushies on the keys, bag, backpack, cars, and anywhere you like. Be guaranteed to be a hit this Valentine's.
Ideal Gift: This Valentine's Plush Toys Set Serves Perfectly as Valentine's Party Favors, Birthday Parties, Classroom Prizes, Claw Machine Prizes, Kids Key Chains, Pinatas, Carnival Prizes, and Gift Exchanges, suitable for students on Valentine's Day.
High-Quality: Providing a 100% satisfaction experience is our main priority to our customers. If ever you should need it, simply "Contact Seller" after you've made your purchase and our team will be happy to help.