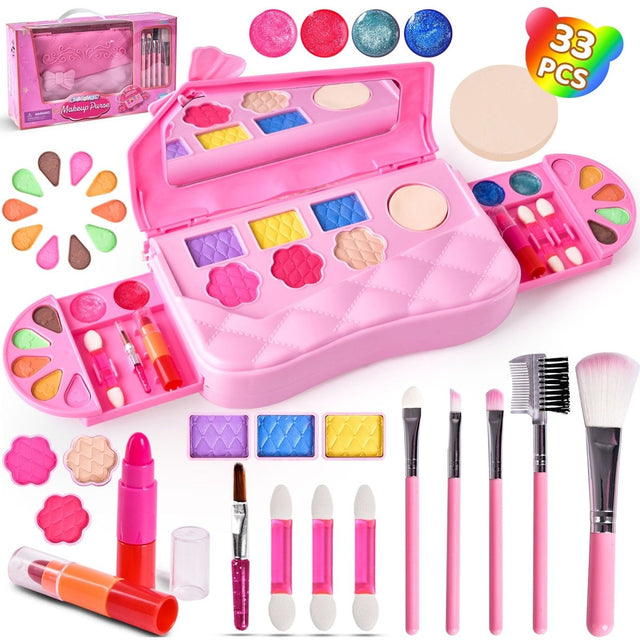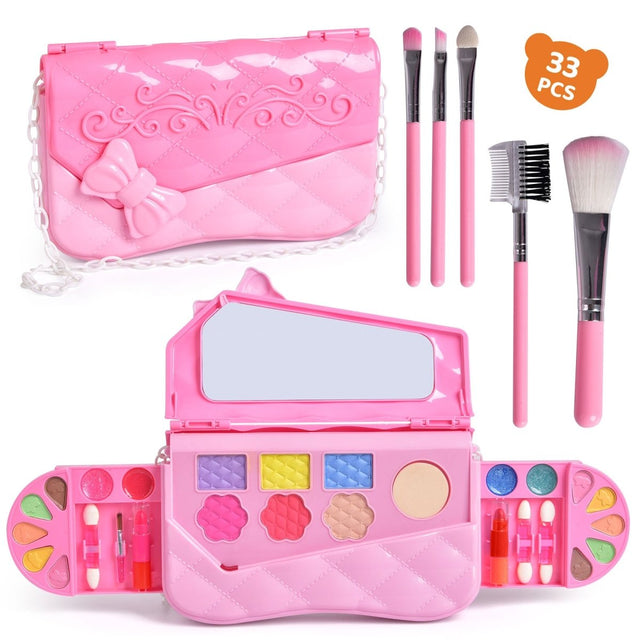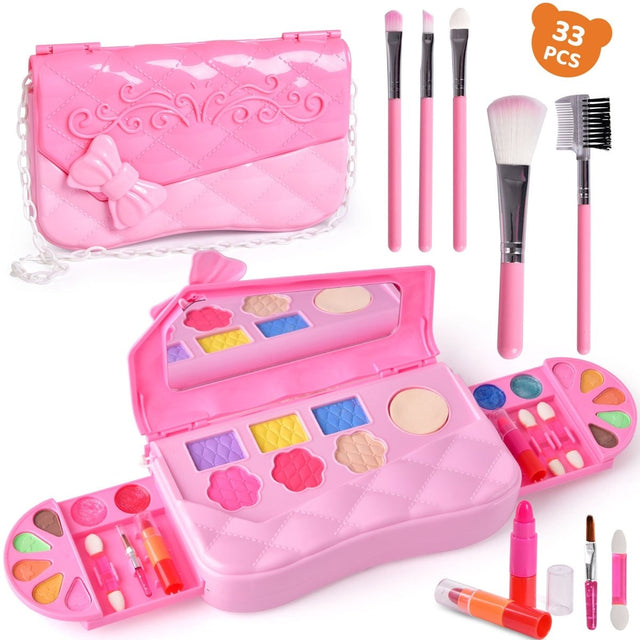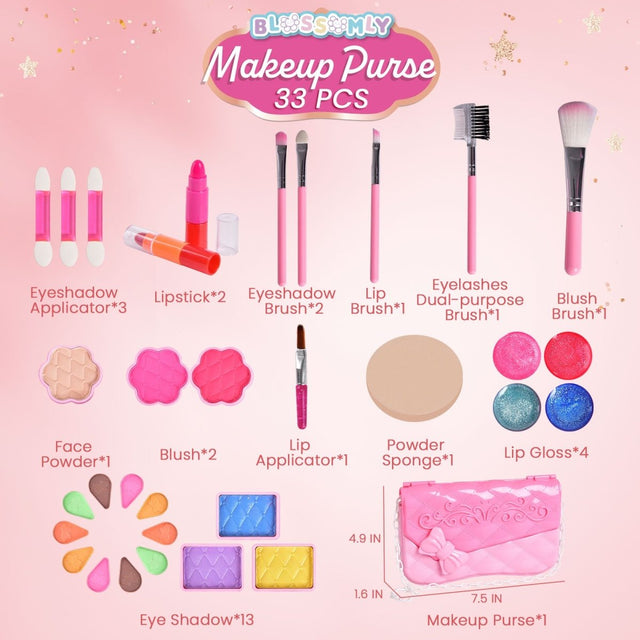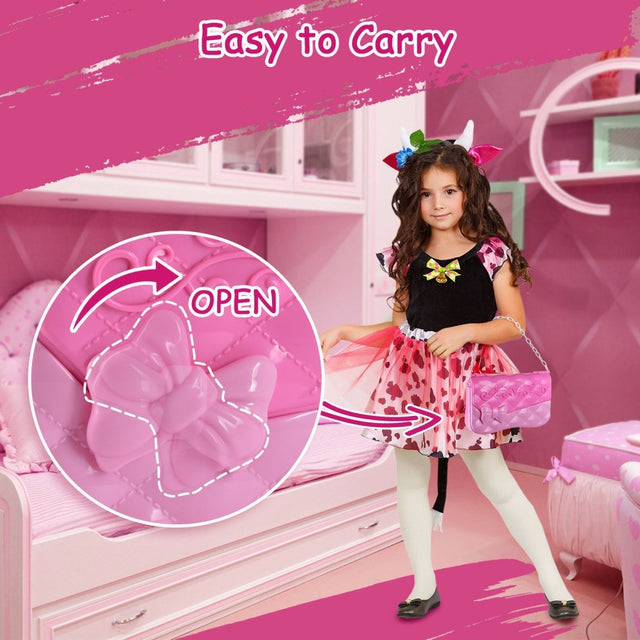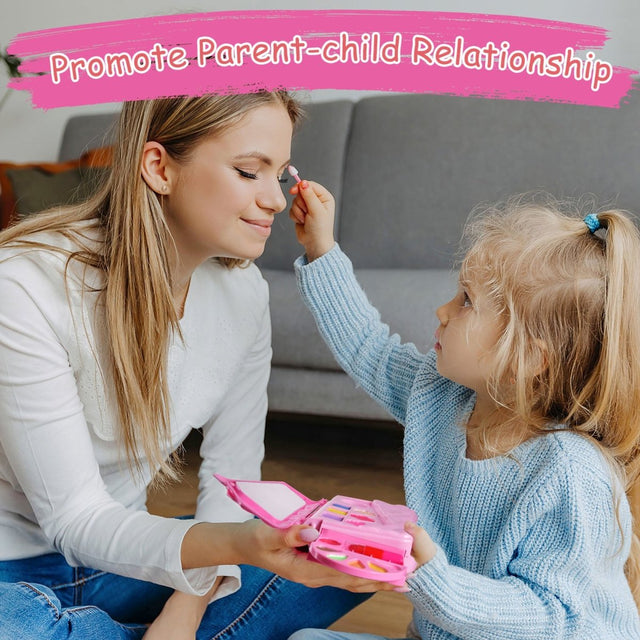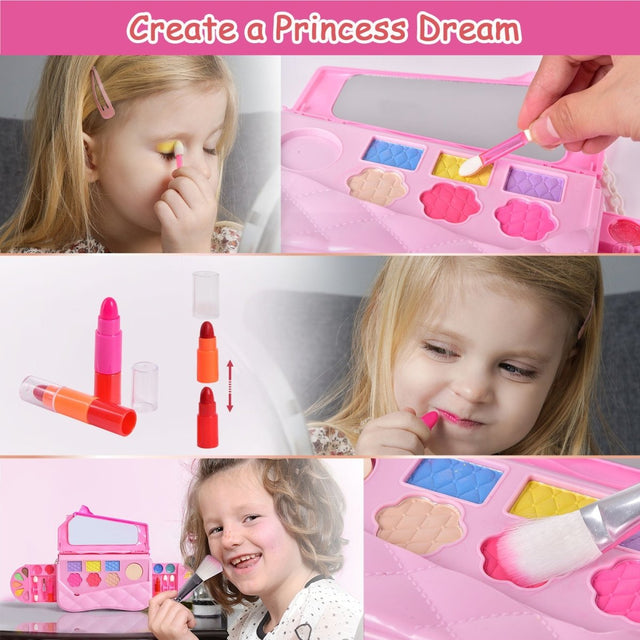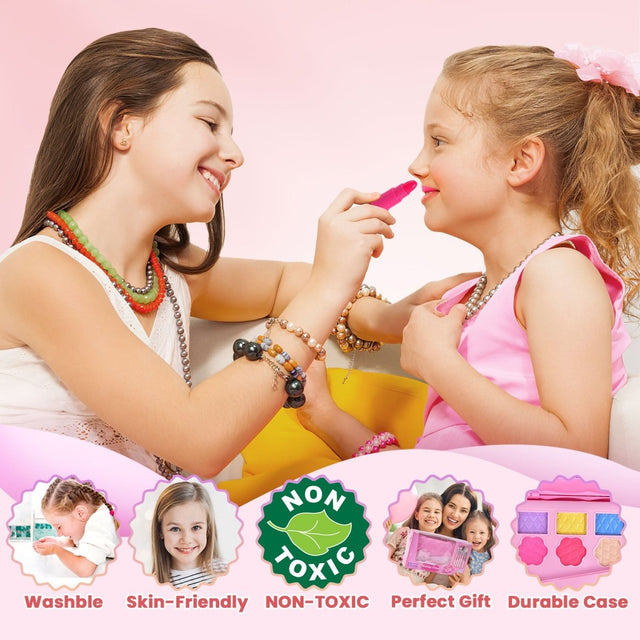 FUN MAKEUP GAME FOR LITTLE GIRLS
All the Makeup Tools are Ready: 33 PCS Girls Makeup Kit including 13 Eye Shadows, 3 Eyeshadow Applicators, 1 Face Powder, 2 Blushes, 4 Lip Glosses, 2 Eyeshadow Brushes, 1 Eyelashes Dual-Purpose Brush, 1 Blush Brush, 1 Lip Brush, 2 Lipsticks, 1 Lip Applicator, 1 Powder Sponge,and 1 Mirror. This little Girls Make Up Kit can meet your princess's curiosity about pretend play!

Unique and Stylish Design: The Kids Makeup Purse is designed with a bow, a floral pattern and a diamond check throughout, which can easily win the love of girls and can help your kids realize the dream of becoming a princess. The chain design is easy to carry, making your little girl more lovely and elegant in daily life or makeup parties.

Fun Makeup Purse: Pink Make Up Set perfectly designed as a girlish makeup purse when closed and a surprisingly full make up set when opened. Portable and easy-to-carry mini makeup toy that can be brought, carried and played anywhere because of its lightweight and foldable features that give convenience and hassle-free playtime for your little girl with her friends.

Encourage Creativity & Entertainment: Play Makeup can help kids improve their fine motor skills, shape and enhance their creativity, imagination, aesthetics, and hands-on skills. Makeup Kits can be played with family and friends to enhance family growth and friendship. For makeup beginners or little girls, it will be an ideal pretend makeup set to face paint and explore beauty.

Ideal Gift: This Makeup Kit is suitable for Pretend Play, Princess Parties, Birthday Parties, Princess Dress Up, Graduations, and more. Sure to be the first makeup Purse for 3-12 years old girls as the most special gift for Birthday, Christmas, Halloween or other holidays!

Washable and Non-Toxic: Our Pretend Makeup Kit is made of materials that meet the safety standards of the U.S. Child Toy Safety Standards (CPSIA & ASTM F-963) and has been tested on body, all materials are skin-friendly. Easy to wash off with soap and water, friendly for kids to do their own makeup.

Customer Satisfaction: Providing a 100% satisfaction experience is our main priority to our customers. If you have any questions regarding your purchase, please don't hesitate to contact us, we are always happy to help.