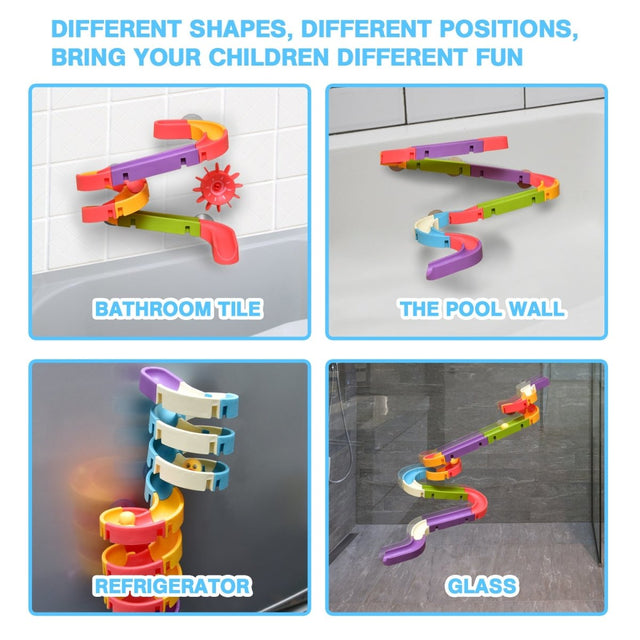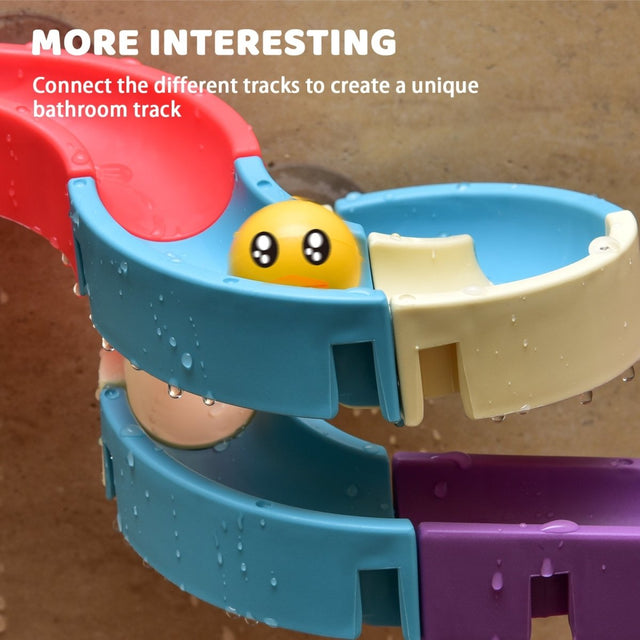 Water Slide Bath Toys for Toddlers: Mini Ducks and Tracks Included!
Kids Hate Bath Time? Here's how to fix it: the track-building water toys!
Connect, design, or re-assemble - it is time to create your personal water amusement park with these cool tracks! The Bath toys from FUN LITTLE TOYS provide the best way for your child to enjoy tub time! Parents are also encouraged to accompany their kids to DIY the final water park "construction" to improve children's imagination and creativity!
Features of Water Slide  bath toys for toddlers
Super Value Bath Toys: This water toys set has a total of 49pcs, including 32 tracks with different colors and shapes, 1 water pinwheel, a toy colander/water ladle, 2 small ducks, 2 capsule ducks, 2 duck balls, and 9 suction cups.
Multifunctional mold-free bath toys: This toddler bath toy has very strong suction power. You can also stick them on any smooth surface, such as bathroom tiles, window glass, white/blackboards, mirrors, refrigerators, etc. Water increases suction power significantly. Rinse the suction cup completely in warm, nearly hot, tap water. The cup is softer and more malleable as a result of this. After pressing the cup into the selected surface, shake off any extra water. Air pockets that may lead to suction-cup failure are avoided by the presence of water droplets inside the cup.
Endless Fun: Kids can match and connect the accessories however they want, allowing them to exercise their imagination and creativity when playing with water. Also, don't forget the duck toys! Put the ducks on the track and watch them marble run on the track. 
DIY Construction Bathtub Toys: Our bathroom toys are very easy to assemble - the water tracks can be connected​​together easily and firmly.  Kids can create their unique water tracks through playing, which can stimulate their imagination, and creativity and improve their hands-on ability.
Ideal Gifts: These bath toys for kids ages 4-8 are the perfect birthday gifts, and prizes for boys and girls of different ages. It can make the bathing process fun and creative
Premium Quality: These bath toys have no mold and are made from durable plastic. Safe, non-toxic, and certified by US Toy Safety Standard ASTM-F963 CPSIA.