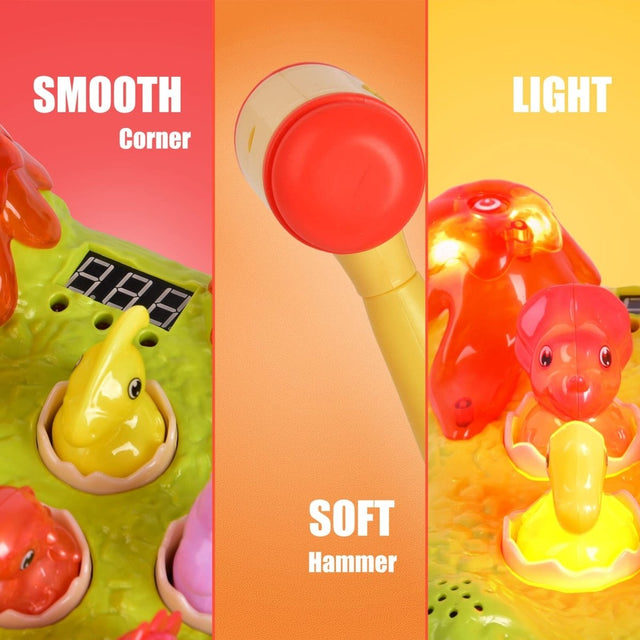 Whack A Mole: The dinosaur pounding toy
Are you looking for a toy gift that is creative and unique? Try this whack-a-mole dinosaur toy. The playing experience is extremely satisfying as kids whack the dinosaur and a quick response leads to success. If you succeed, life will reward you; if you fail, there are consequences. It is just reality.

Whack-A-Mole is made to get faster as the game progresses and additional moles are found along the way.
Features of the Interactive Dinosaur Game Pounding Toys with 2 Hammers
🌟Adorable parent-child interaction toy -- this dinosaur Whack A Mole game for toddlers is the perfect gift for kids. You can connect with your child through play and makes happy memories together. This early developmental toy improves hand-eye coordination and trains reaction time.
🌟Cute design: different from ordinary whack-a-mole games, this hammering toy for toddlers has a dinosaur-themed design (with 7 different dinosaurs and 2 hammers). The overall design looks like a volcanic eruption. The power button resembles lava spewed out of a volcano. There are four red buttons below, which are used to adjust volume, power on/off, play the history of dinosaurs, and switch between two languages (Spanish and English)
🌟Durable and Safe - This toddler toy is made of high-quality materials, has smooth edges, is burr-free, and comes with two hammers made with soft rubbers.
🌟IDEAL GIFTS FOR KIDS - Our Interactive Whack A Dinosaur Game is a perfect toy for 3- year-old kids and above. It is the perfect gift for birthday parties, family gatherings, indoor and outdoor activities, carnival prizes, Easter, Halloween, Christmas, and New Year!
🌟Interactive Dinosaur Game - Load 3 AA batteries (not included) and start the excitement with your kids now. You will need a regular-sized screwdriver to open the battery compartment.