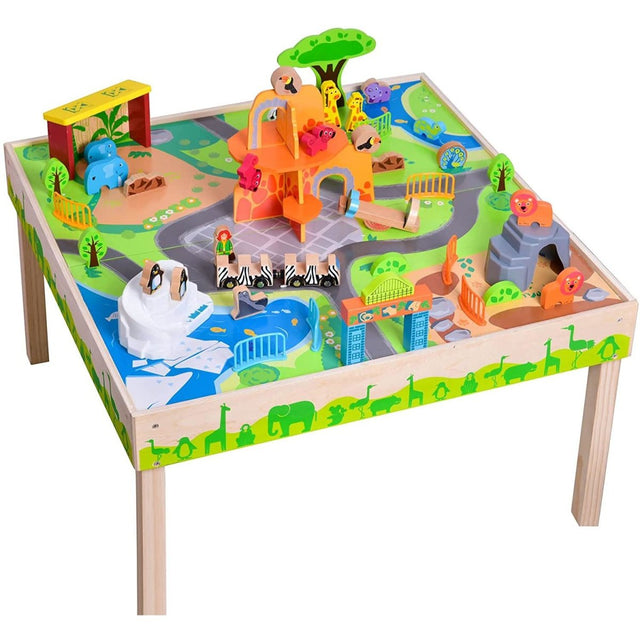 Wooden All-in-One Zoo Play Table
Welcome to the PopFun Zoo, young explorers! It is time to observe various animals, including giraffes, lions, zebras, penguins, elephants, monkeys, peacocks, seals, toucans, hippos, and turtles! You have the complete freedom to design your ideal zoo to make this land more friendly for your animal friends.
The zoo set comes with a wooden train that is connected together with metal magnets. This makes connecting and disconnecting train parts incredibly easy for your young children. 
The wooden all-in-one zoo play table is perfectly sized to fit in playrooms! It also minimizes a lot of cleaning up or organizing that you usually have to do with this amount of play pieces. Keep them all on the table and keep your home beautiful!
Features of the Wooden All-in-One Zoo Play Table
Unique Value Set: The Wooden All-in-One Zoo Play Table offers unique pieces for your little zookeeper's playtime. This wooden table and play-set for kids will revolutionize playtime in your home, and will captivate little ones all around.
High Engagement: This large wooden table set has several scenes for different animals. There are jungle animals lions, sea animal penguins, and other safari animals such as giraffes, elephants, and parrots. Includes a seesaw and jungle train for the zoo!
Play-Safe: This wooden play table has been crafted with only the highest-quality materials, ensuring the safety and comfort of every little player. 100% toxin-free smooth wooden surfaces are safety-guaranteed. 
Core Information
Unit Dimensions: 
33.27 x 15.55 x 3.74 inches
Unit Weight:
16.2 pounds